Top 10 Upcoming Games of November 2019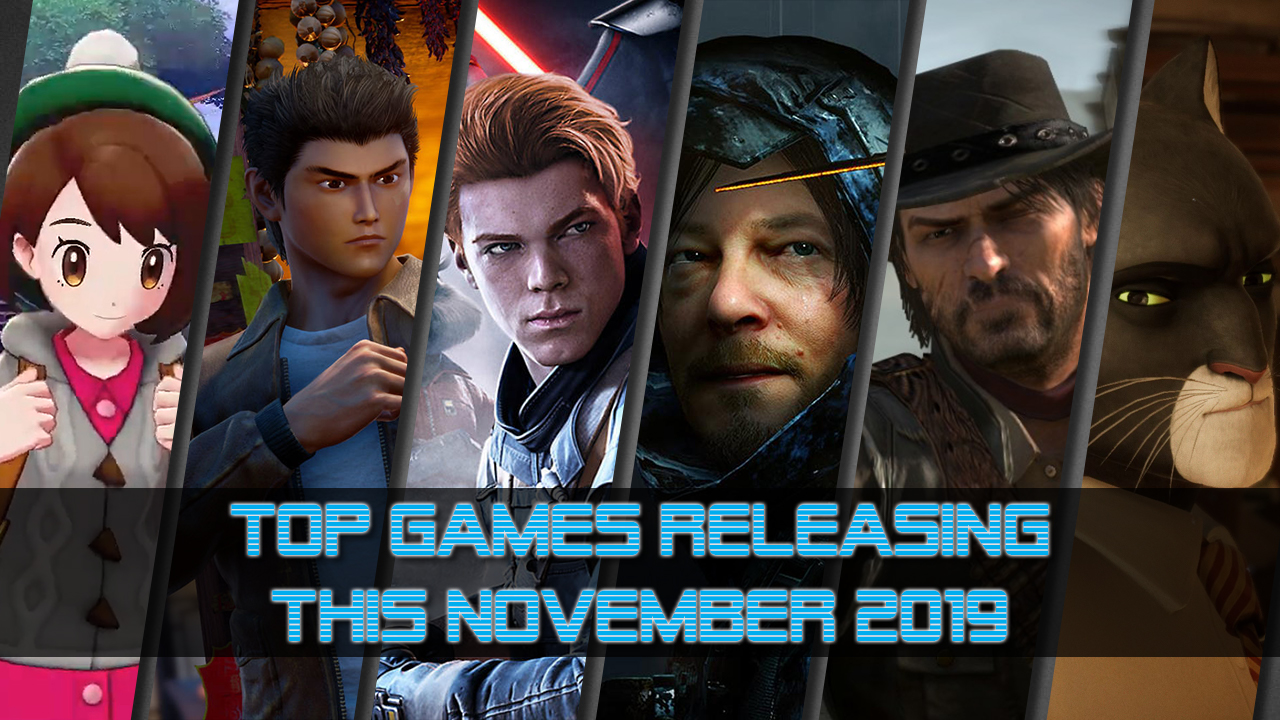 ---
Best Game Releases this November
---
We all knew it was just a matter of time before Red Dead Redemption 2 made its way to PC. The western action-adventure game will be getting some PC specific enhancements, although Nvidia has announced that the game won't feature support for ray-tracing. The PC version also comes with all-new content including new missions, weapons and horses. The PC port will also come with the shared world multiplayer mode, Red Dead Online.
---
Test your zoo management skills as the Zoo Tycoon series goes global in Planet Zoo. Construct various habitats to house animals, paying close attention to their needs. Take on different objective-based scenarios or just let your imagination run wild in the Sandbox mode. Just make sure you consider every decision carefully. You may end up building the biggest and wildest animal attractions the world has ever seen, or just make a big mess of it all while trying.
---
Just what is Death Stranding? After years of bizarre lengthy trailers and fan speculation, we might finally be able to answer that question. From what we've heard from the critics, it seems this will be a very polarizing game — either you like it or you don't. Still, any game from industry legend Hideo Kojima should definitely be worth playing at least once. So, strap on your cargo and get ready to walk for miles on end, it's time to make America whole again.
---
EA may have finally listened to NFS fans as Need for Speed Heat looks to bring high-stakes racing back in the spotlight. Here, players earn money to upgrade their ride by competing in sanctioned races during the day. At night, players turn to illegal street races with the police hot on their tail. These night races are the only way to raise your reputation and unlock new races and shops. There's a clear nod to Most Wanted and Underground here, and that should get you excited for this instalment.
---
If you are missing the great adventure games from now-defunct Telltale Studios, you'll want to check out Blacksad Under the Skin. The game is based on the Spanish-French comic book series, Blacksad, and kind of looks like a noir detective movie set in Disney's Zootopia. Feline private-eye John Blacksad is hired to investigate the death of a boxing club owner and the disappearance of the club's rising star. Investigate key locations and uncover crucial clues to solve the mystery.
---
After years of disappointing Star Wars fans, EA is on the brink of a breakthrough with Respawn's Star Wars Jedi Fallen Order. Cal Kestis, a Jedi Padawan who survived Order 66, finds himself on the run from the Empire's Inquisitors. A lot is riding on this new title. EA has already gotten a lot of support after announcing that the game will be purely singleplayer and will have no microtransactions. Hopefully, the Force will be strong in this one.
---
Pokemon Sword and Shield are the first core RPGs in the series for the Nintendo Switch, and the first on a home console (although the Switch can be considered a handheld too). There's a lot of new features coming with this tandem — Dynamax and Gigantamax Pokemon, co-op raid encounters, visible wild Pokemon, and the all-new 'Camp' mode. As tradition dictates, both versions will feature exclusive Pokemon, and for the first time in the series, version-exclusive Gym Leaders as well.
---
Celebrate the 20th anniversary of one of the most-played real-time strategy games of all time as Age of Empires 2 Definitive Edition brings back the multi-era spanning battles with new high definition graphics and support for 4K resolution. Enjoy the fully remastered soundtrack plus brand new content featuring 3 new campaigns and 4 new civilizations. This will be a great way to pass the time while we wait for Age of Empires 4.
---
After several years of being stuck in development, fans and backers will finally be able to play Shenmue 3. Ryo Hazuki returns as he tries to solve the mystery of his father's death and impart vengeance on his father's killer. Players will be able to take on part-time jobs, gamble, play arcade games, and practice kung-fu too when Ryo isn't busy taking down bad guys.
---
Sniper Ghost Warrior Contracts takes the series' best-in-class sniping gameplay to Hitman-style sandbox missions. Play as an assassin-for-hire and experience the all-new Dynamic Reticle System that offers the most realistic sniping experience in any videogame. Be wary, though, as you'll encounter rival snipers trying to steal your mark. Take care of them quickly or you'll regret it.
---
ALSO ON ALLKEYSHOP NEWS
---
 

Mac might not be the the most supported platform when it comes to gaming, but it doesn't mean there aren't any good games on it. Here are our top picks.
---

The post Top 10 Upcoming Games of November 2019 appeared first on AllKeyShop.com.