GLOBAL EVENT #6: ONSLAUGHT RETURNS!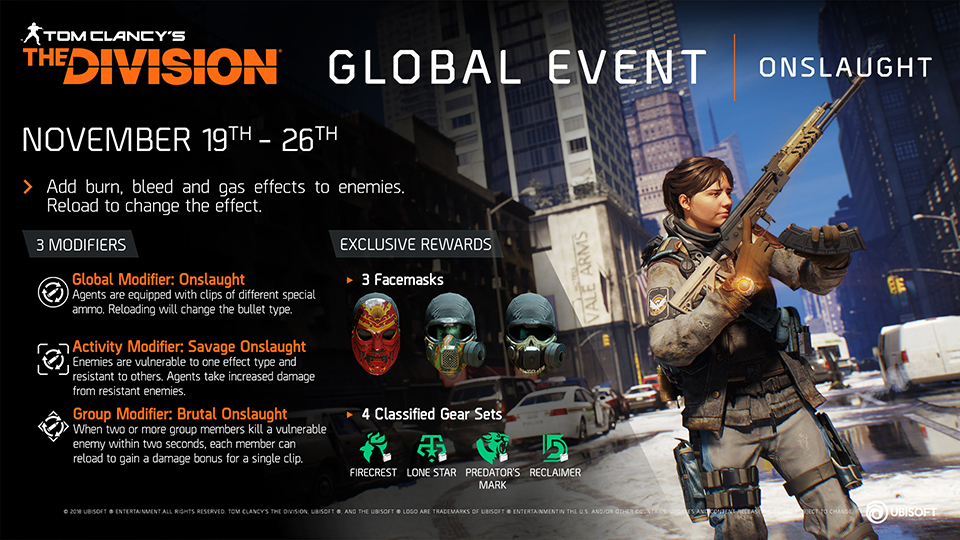 The sixth Global Event, Onslaught, is returning to The Division! Agents will have to adapt their playstyles around three global modifiers that change the pace of the game. Utilize three variations of special ammo to deal more damage!
Start: November 19th, 08:00 AM UTC
End: November 26th, 08:00 AM UTC
The following modifiers will be live during Onslaught:
Onslaught—Always active. Deal Burn, Bleed, and Gas effects to enemies in addition to normal damage. Reload to change the effect.
Savage Onslaught—Onslaught behavior, plus enemies are vulnerable to one effect type and resistant to others. Agents take increased damage from resistant enemies.
Brutal Onslaught—Savage Onslaught behavior, plus when two or more group members kill a vulnerable enemy within two seconds, each member can reload to gain a damage bonus for a single clip.
Agents will have an opportunity to earn the following Classified gear-sets:
Classified FireCrest
Classified LoneStar
Classified Predator's Mark
Classified Reclaimer
The event works the same way Onslaught has in the past. The Oni, Smiler, and Ember masks will be available alongside weapon skins. Please note if you have already earned Onslaught's weapon skins, leaderboard caches will not yield new rewards.