Update 0.6.5 live!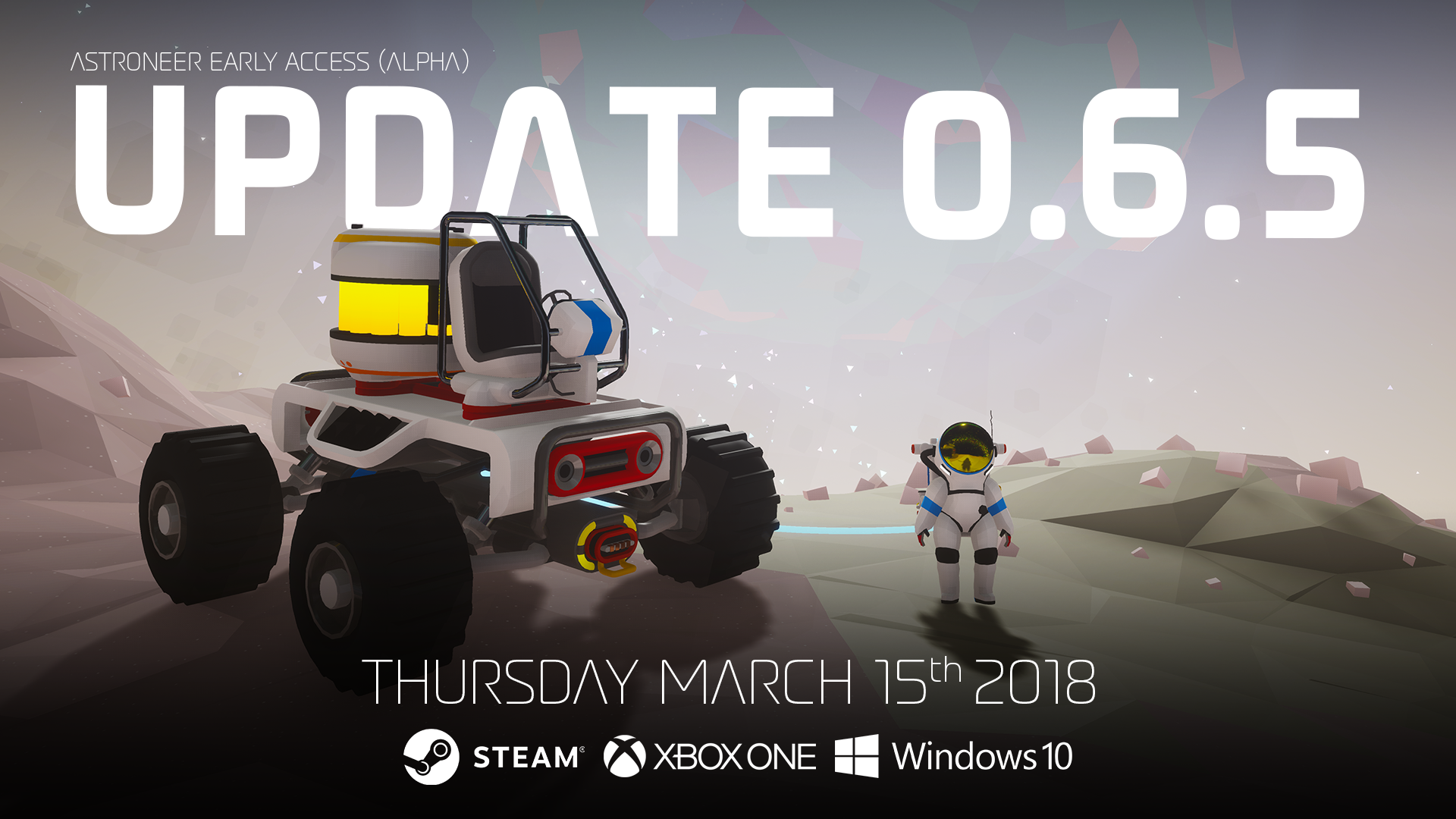 Steam 'Early Access' users will receive this update today, Thursday March 15th, 2018.
This update is another foundational change, with an overhaul to rover visuals and functionality! Now Astroneers can operate new rovers with updated visuals, storage and suspension, as well as the ability to create mobile bases by unpacking base modules on the rover chassis. Also included in this update are splitters, a tool to direct power flow, and a plethora of new base platforms so players can create even more custom base configurations.
———-UPDATES———
You can find these updates in 0.6.5.0, the current build of the game.
VEHICLES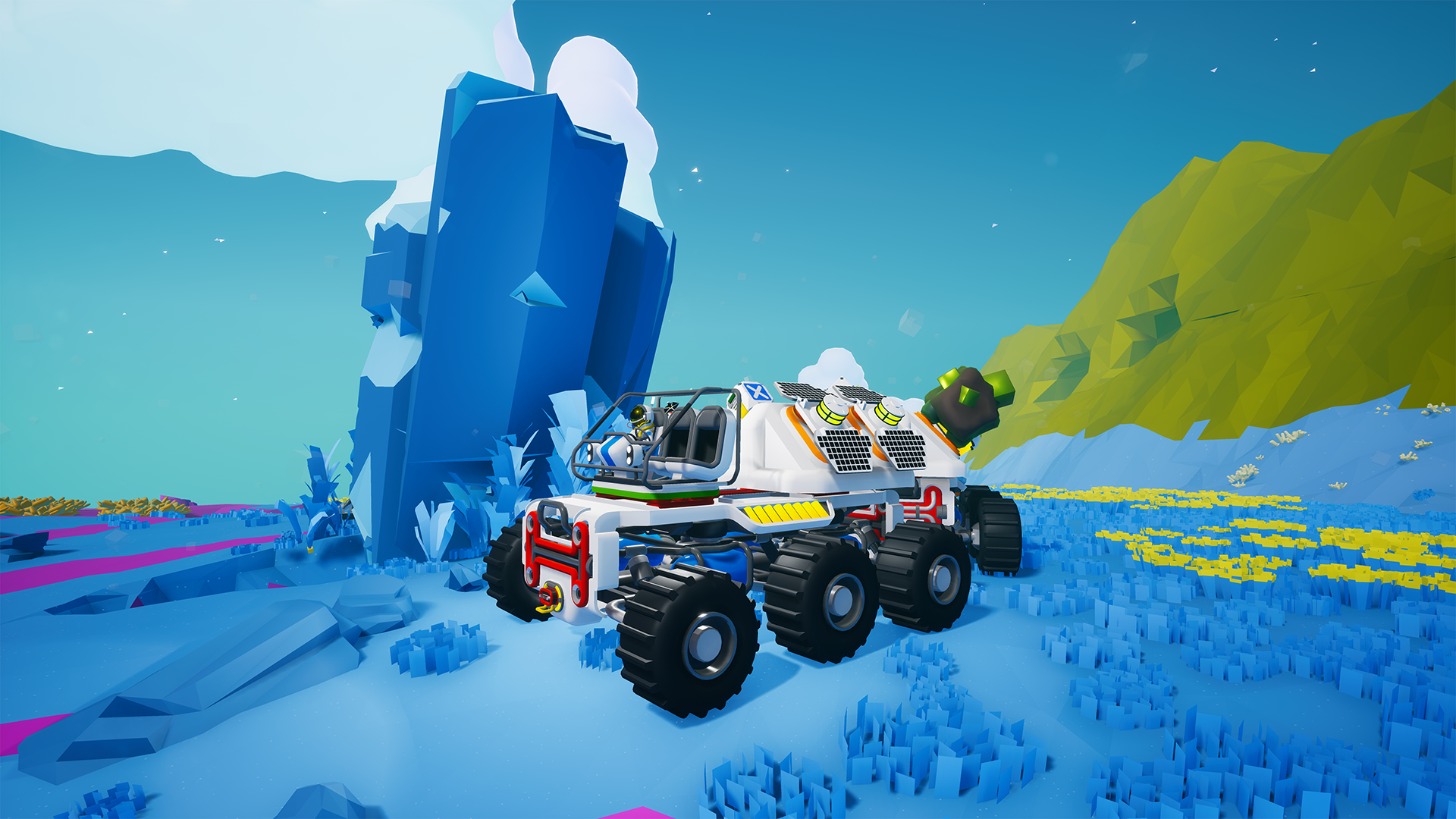 The Medium Rover and Large Rover have received a visual update. This includes new front and back slots which provide extra storage. These slots will only be active if the power line below them is unconnected. Once the power line is connected to another Rover or Platform base, the slots will fold down and drop any items attached to them. Old rovers should transfer over seamlessly.
The visual representation for Rover batteries has been changed. But their discharge and capacity is unchanged.
Rovers have received an update to their suspension. Handling should be much better. Also, gravity on vehicle chassis has been adjusted so Mobile bases should be more stable.
The power connection between Rovers and Platforms has been changed to directional. Now, you can very easily tell if your rover is consuming or providing power from your base. You can use this directional line to prevent the rover from mistaken power draw or discharge.
Research unlock costs relating to Vehicles have been reduced.This change has been made to encourage acquiring Rovers earlier in progression. Specifically:
The Vehicle Bay cost has been reduced from 1000 Bytes to 250 Bytes
The Medium Rover cost has been reduced from 2400 Bytes to 2000 Bytes
The Large Rover cost has been reduced from 8000 Bytes to 6000 Bytes
The Open 1-Seat cost has been reduced from 600 Bytes to 300 Bytes
POWER
A three port Splitter object has been added to the game.


The Splitter takes in a power line and creates up to two adjustable directed streams. It is available in the Catalog for 1000 Bytes and prints from the Small Fabricator for 1 Copper.
Directional power visualization has been updated for clarity. The previous version was just placeholder art. The marching chevrons should now be much more readable at a glance.
Power Cells behavior has been changed. They now act as an on demand, single use battery which will only discharge when power is needed by the item they are attached to. Oh, they also no longer provide infinite power.
BASEBUILDING
Modules can now be unpacked on top of Rover bases enabling a kind of Mobile base.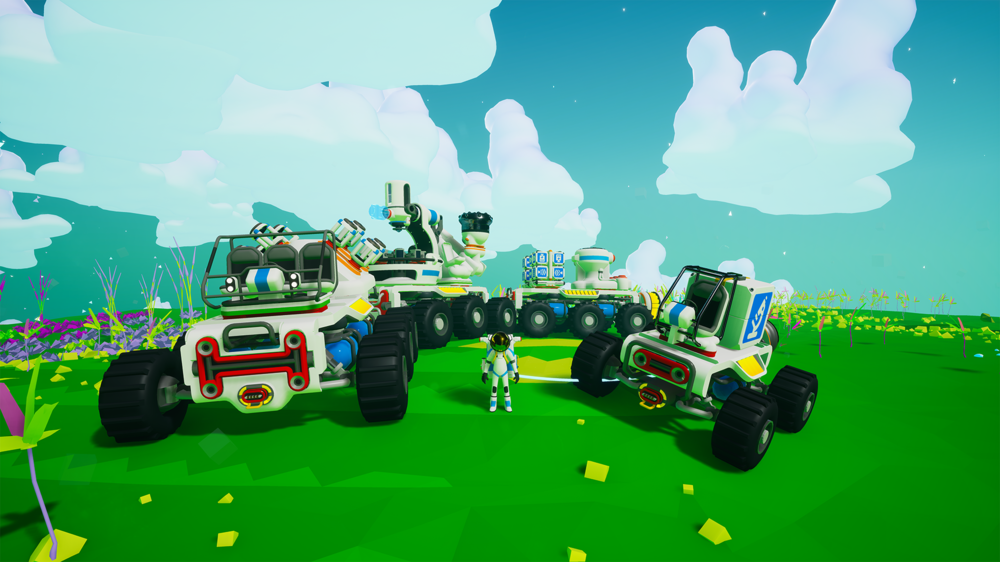 You will still need immense amounts of power to operate a base on wheels, but this should allow for our nomadic players to continue base operations on the go. Also, be aware that once unpacked, base modules on rovers are linked forever. <3
Added new Platform and Storage variants to the game! (KNOWN ISSUE: OLD FABRICATORS WILL NOT UPDATE TO INCLUDE THE NEW PLATFORMS. UNTIL WE ISSUE A FIX, PRINT A NEW FABRICATOR TO SEE THE ENTIRE LIST OF PRINTABLE PLATFORMS.)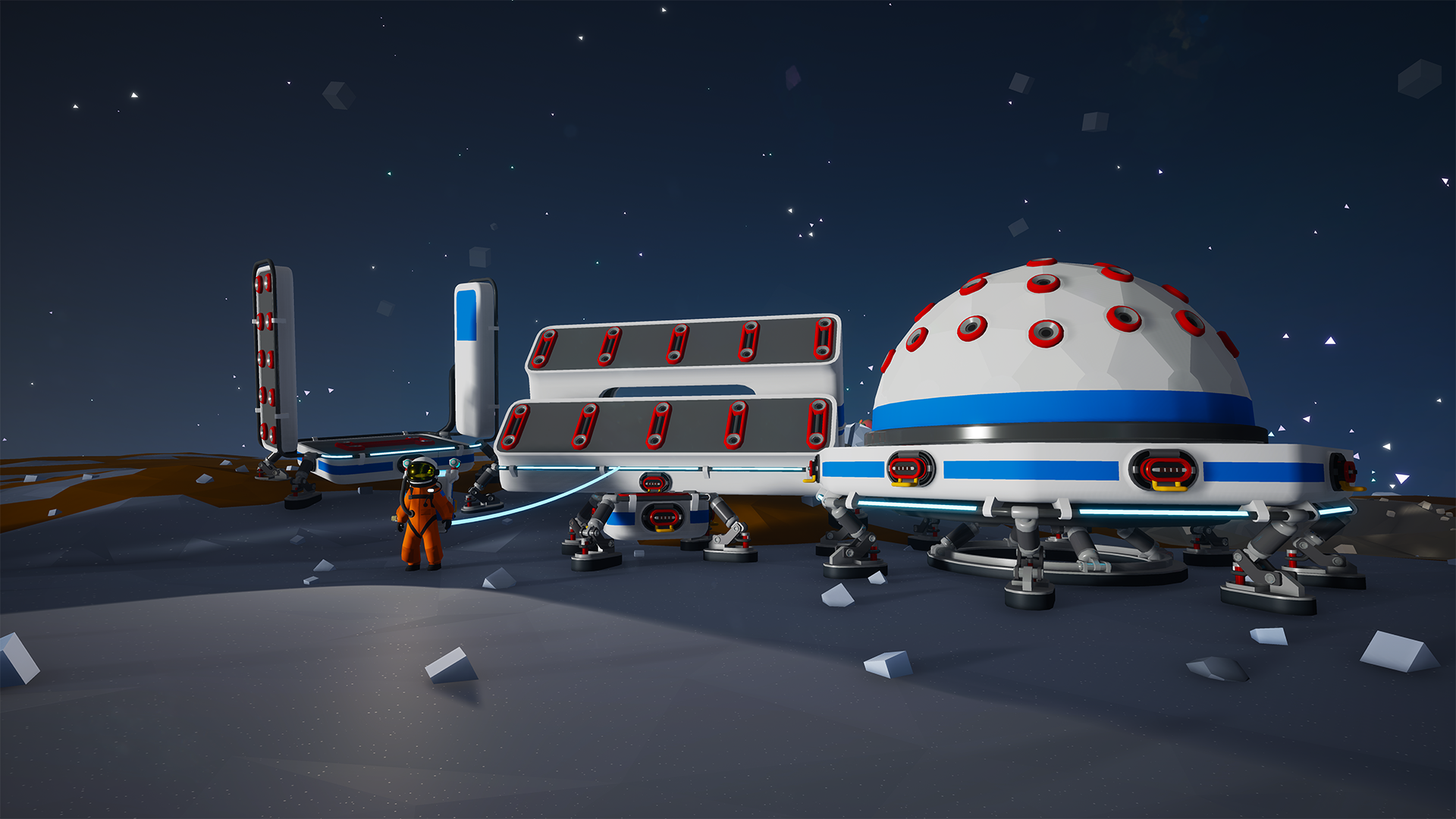 Medium Platform B – More compact version of the Medium Platform, costs 250 Bytes to research and 1 Resin to print.
Large Platform B – More compact version of the Large Platform, costs 500 Bytes to research and 2 Resin to print.
Large Platform C – Winged version of the Large Platform which swaps the Tier 2 side slots for 20 Tier 1 slots, costs 2000 Bytes to unlock and 2 Aluminum to print.
Large Platform D – Two-tiered platform with 10 Tier 2 storage slots, costs 2000 Bytes to unlock and 2 Aluminum to print.
Extra Large Platform – An octagonal platform with a single Tier 4 slot, and eight cable sockets, costs 3000 Bytes to unlock and 2 Aluminum to print.
Extra Large Storage – A domed Tier 4 storage platform that prints on top of a Large Rover, or an XL Platform. It contains 31 Tier 1 storage slots, costs 3000 Bytes to unlock, and 2 Compound and 2 Aluminum to print.
The Vehicle Bay can now be operated by a Control Panel.
Module Control Panels have received a lighting pass
INTERACTION
A large number of the orange floating UI buttons have been removed from the game and replaced with interaction verbs. Your bases should look a bit less like a Las Vegas light show.
The default Use verb has been replaced with contextual interaction verbs. For instance the Work Light now uses the verbs "Turn On" and "Turn Off," while Drop Pods, Habitats, and Seats now use "Enter" and "Exit."
AUDIO UPDATES
Update Smelter Audio, better end loops. Less Abrupt.
Added variations for Base Building.
Hazard Plant SFX
OTHER UPDATES
Items in the Catalog have been slightly reorganized.
———BUG FIXES———
[AS-1831] – Fixed a longstanding bug where Tether lines did not go dark in Multiplayer games when disconnected from an Oxygen source.
[AS-2237] – Fixed a bug where the Astroneer's headlamp would turn off while dying inside a Drop Pod
[AS-2545] – Fixed an issue with cables twisting in strange ways in relation to the planet center.
[AS-2546] – Fixed an issue with power sockets on platforms twisting cables in strange ways in relation to the planet center.
Due to the physics constraints of the world, vehicle chains have once again been limited to a maximum of 4 Rover bases.
[AS-2567] – Power Nuggets once again charge batteries. Cave spelunkers, rejoice!
[AS-2570] – Drop Pods should no longer launch into space when invoking the Use command.
[AS-2572] – Large Solar arrays can once again be moved by the Winch!
[AS-2574] – Mineral Extractor and Smelter should once again auto-pull from and auto-deposit into connected storage.
Fixed several recurring crashes on PC and Xbox One which should increase general stability.
We will be updating our roadmap a little later today. And don't forget, we are on sale for another 24 hours, so tell a friend! Thanks for reading and enjoy!
-jt