The Grand Prix Summer Races are Full Speed Ahead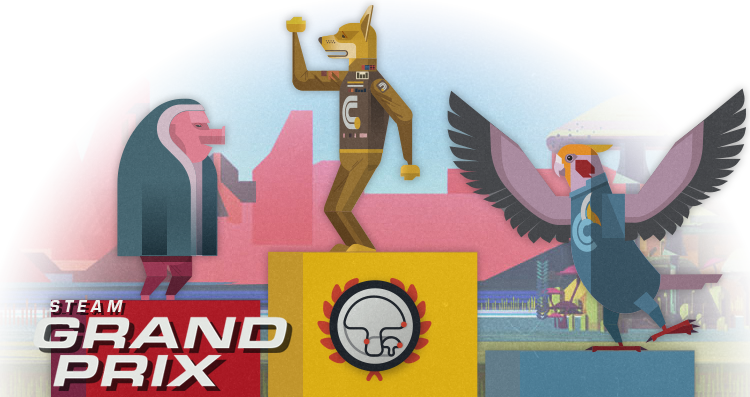 Congrats to the winners at Magic Mountain on Day 3, and a special welcome to the podium to Pig… in a Blanket! Corgi would appear to be unstoppable, but the Grand Prix can still be taken by any of the teams.
The first few days of the Grand Prix have been dynamic and dramatic, to the point that some of you have started to wonder what's going on under the hood. We want to assure you that we are not manually intervening in the outcome of a given day's race. Each team's progress is fueled by its active number of players and the points and boosts they contribute.
Racers, we've heard your feedback – you want to race! We have added more ways to participate in the Grand Prix for free. Introducing: Qualifier Tasks. Now in addition to grabbing deals in the Summer Sale, players may join the races for free by first completing one or more of these objectives. Each completed task increases a driver's max points by 500, enabling you to complete Grand Prix Quests and claim Achievements.

Also, you know those Achievement points we made you throw away rather than claim? Those are now back in the hopper, ready for claiming. Additionally, whenever you claim Achievement points, any available beyond your current max points will now be saved. You can increase your max points and then return to claim them at any time throughout the Grand Prix races.
We've also tried to clarify the team positions with some changes to the track – let us know what you think!
Lastly, we've heard you on the Grand Prix Badge. Man that thing is hefty! It is awarding *signficantly* more XP than intended. We'll be fixing this bug soon, lightening the value of the badge. While this may be dissappointing in the short term, we want to respect the value of past and future badges earned and feel this correction is the fairest measure we can take to make things right. If you no longer love your Grand Prix Badge, you will be able to exchange it at the Pit Stop for the number of of tokens you've spent on it.
Best of luck to all the teams in the Rainbow Ring during Day 4!