EA Play 2019 Reveals and Highlights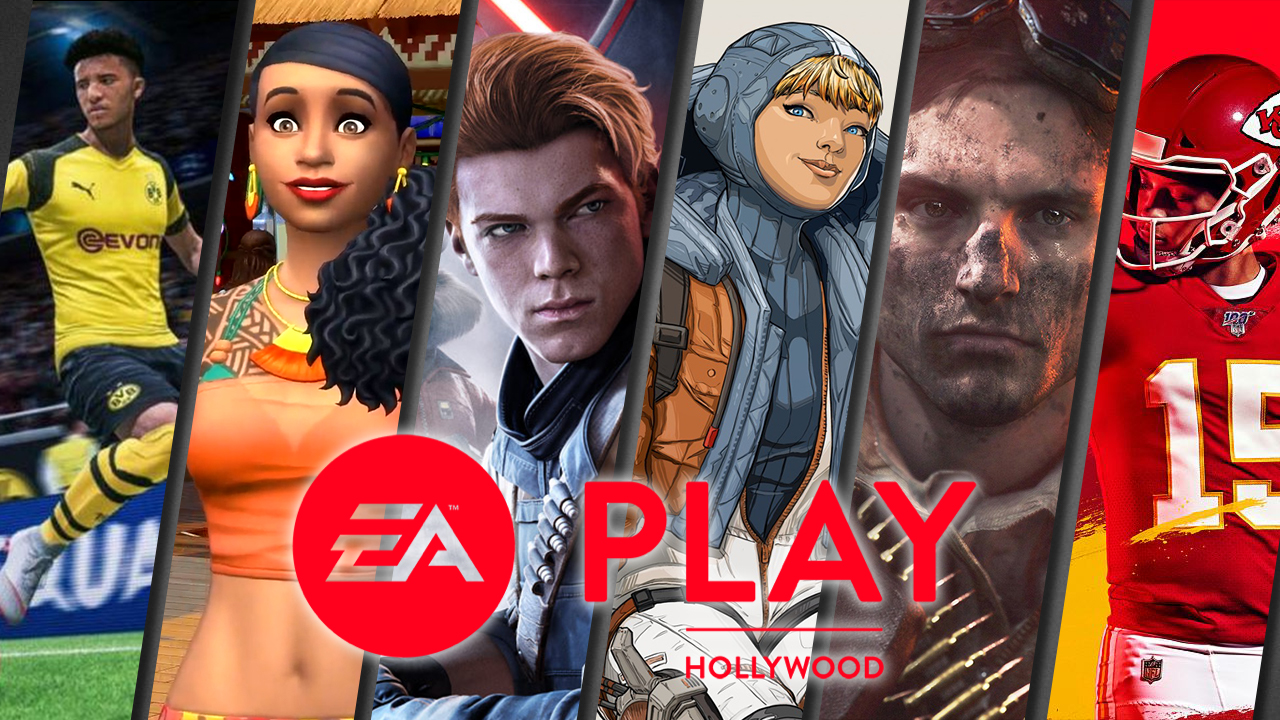 Although not held officially at E3, Electronic Arts held their E3 stream, dubbed EA Play, yesterday. The stream lasted for almost 3 hours and revealed tons of information about upcoming and already established games. In case you missed part of or the entirety of the stream, here are the highlights you should know about:
---
Star Wars Jedi Fallen Order Gameplay Peek
EA started off big by immediately jumping into a gameplay peek of what could be their most anticipated title right now — Star Wars Jedi Fallen Order. Viewers were treated to 13 minutes of uncut gameplay that showed off protagonist Cal Kestis using several lightsaber techniques and force abilities. Cal also sports a companion droid named BD-1 who spends most of its time sitting comfortably on the Jedi-in-training's back.
You can check out the full gameplay demo below:
The game is definitely rough around the edges, but that's expected of something in its alpha stages. It's been a while though since we've had a true singleplayer Star Wars experience so it'll be exciting to see how Jedi Fallen Order delivers.
---
Apex Legends Season 2 and New Character
Respawn Entertainment had a lot to announce for Apex Legends during their time on the stream. A new weapon called the L-STAR will be coming to the game and can only be obtained through care package drops because it's "so OP". Also, Season 2 will be starting on July 2nd and it will come with a ranked mode. Last, but definitely not the least, a new defensive Legend named Wattson is joining the roster soon.
Here's a peek at Wattson's backstory:
Wattson will be able to create defensive fences and basically lockdown an area with her ultimate that recharges shields and destroys incoming ordinates. It looks like Respawn is also using Wattson to start building up the game's lore.
---
Battlefield 5 New Maps and Upcoming Chapter V
For Battlefield 5, DICE showed off two new maps. The first is a massive one called Al Sudan aimed at players who like the larger scale battles Battlefield is known for. On the other hand, DICE seems to want to please every type of player as another new map called Marita will be targeted at those who prefer more intimate skirmishes.
Here's the Marita map introduction:
DICE also talked a bit about Chapter V where the team will attempt to recreate the Iwo Jima theatre of war. The new chapter will come with new weapons and vehicles themed around the conflict.
---
FIFA 20 Introduces Volta Football
EA Sports revealed this year's entry in the long-running FIFA series and it sort of brings back a beloved FIFA spin-off as a new mode. FIFA 20 channels FIFA Street in the all-new Volta Football that will come as an additional mode and will not replace the Career or any other existing ones.
You can check out FIFA 20's reveal trailer below:
EA has also reworked several aspects of the core game such as the free kick and penalty system, defending, passing and attacking. Volta will also come with the ability to create female characters and various customization options.
---
Madden NFL 20 Dynamic Playbook Updates and Superstar X-Factors
Just in case you're a fan of American football, EA Sports had a lot to share about this year's Madden. Most interesting is a new feature where if a team uses a certain play during the ongoing NFL season, EA will update that team's playbook in the game to include that play. Kansas City Chiefs quarterback Patrick Mahomes serves as this year's cover athlete and promotes the game's Face of the Franchise mode in the trailer below:
There are also a lot of new features too including new mechanics and new abilities called Superstar X-Factors that should make the game's superstars "play like superstars".
---
The Sims 4 Island Living Expansion
Five years after it first launched, The Sims 4 still enjoys a loyal following. Those fans will be treated to new content later this month when the previously leaked Island Living expansion arrives. The expansion will let your Sims go into the water for the first time, allowing them to scuba dive and enjoy other water activities. Players will also be able to play as mermaids and befriend dolphins.
You can view the expansion's feel-good reveal trailer below:
Interestingly enough, players will need to take care of their island home to keep it and the water around it from getting polluted. I assume things will take a turn for the worse when that happens. Island Living launches on June 21st for PC and July 16th for Xbox One and PlayStation 4.
---
And those were the highlights of EA Play 2019. E3 is just getting started so make sure to stay tuned here for more updates from this year's expo. Cheers!
---
ALSO ON ALLKEYSHOP NEWS
---
 

E3 2019 is just about to hit and we're warming you up with the latest leaks and rumours that should get you excited for this year's big expo.
---

The post EA Play 2019 Reveals and Highlights appeared first on AllKeyShop.com.