Top 10 Strategy Games of 2018 for PC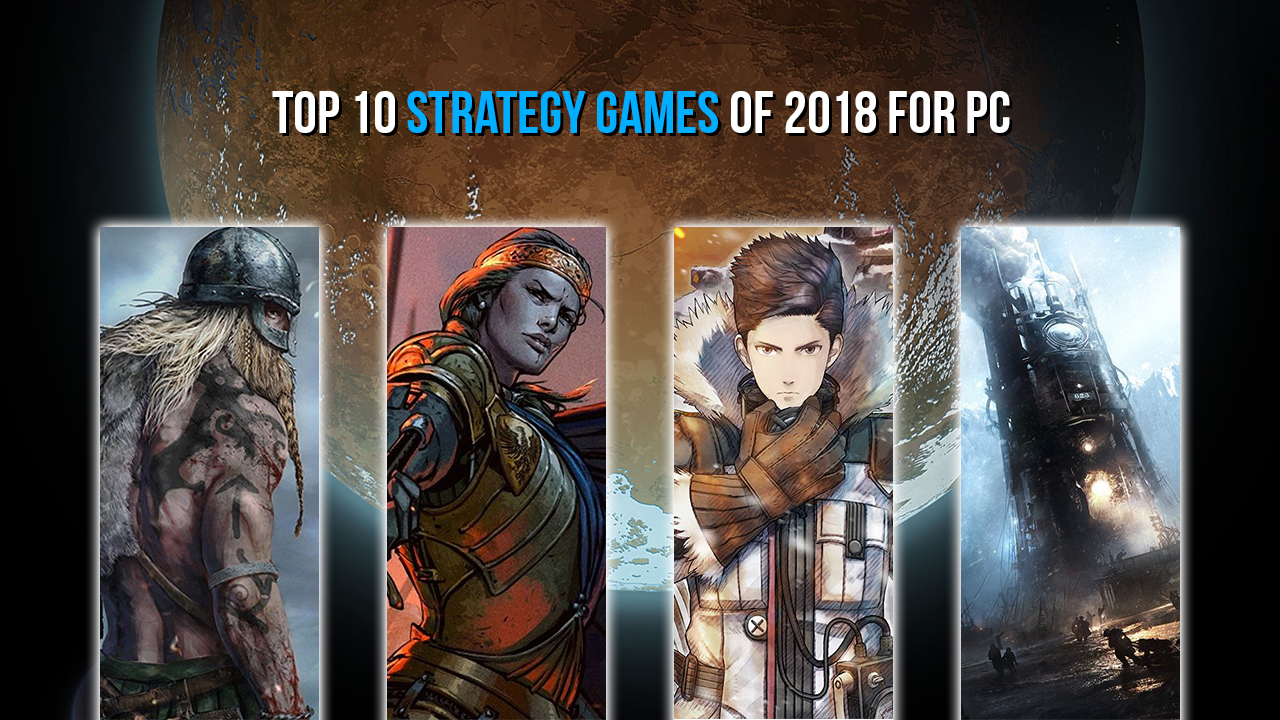 If there's one genre that's more at home on PC than any other platform, that would be strategy. It's probably because nothing can beat the good ol' mouse and keyboard combo when it comes to placing buildings and navigating complex menus. With that said, last year saw plenty of releases for the genre which might pique your interest in case you feel a sudden thirst for the power to control. And so, we've listed the top 10 strategy games of 2018 for PC, each one a worthy addition to your library if your hankering for some managing.
---
10 Best PC Strategy Games of 2018
---
RimWorld tasks players with building an off-world colony starting with just three survivors. But RimWorld is more than just a management sim, it's a story generator. The game lets you think you have control over your colonists, but the truth is that control is only superficial. Each colonist is flawed, and it's their flaws that give birth to little ripples in your plans that soon become tidal waves as you watch your dream colony spiral out of control. But it is this unpredictability that generates the best tales of all.
---
Gigantic alien creatures threaten what remains of human civilization on Earth. It's up to you to command powerful mechs to repel the invasion. Retro gamers will appreciate Into the Breach's lovely pixel graphics that are reminiscent of GBA strategy games, but it ultimately shines with its core gameplay. While other developers tend to stray by concentrating on the bells and whistles, Subset Games has was able to keep their focus on the basics, which resulted in fun mechanics, well-designed maps, and an experience that will keep you coming back for more.
---
What started out as the singleplayer story mode for GWENT soon became a game of its own that added to CD Projekt Red's reputation as master storytellers. Card Games aren't normally known for their stories, even if they have well-developed lore. But Thronebreaker is no ordinary card game. In fact, it is a Witcher RPG in its truest sense. Gripping story? Check! Decisions with game-changing consequences? Also check! Geralt of Rivia? He's definitely there. Plus, the card game combat is enjoyable and deep enough to entice strategy fans.
---
The people at 11-bit Studios, as proven by the heart-wrenching management sim This War of Mine, are no strangers to making games about hopelessness and desolation. Frostpunk however sees the indie team take it a notch higher as they force players to make morality-bending decisions in order to ensure their city's survival. The atmosphere is depicted perfectly, so much so that you feel the cold while just staring at your screen, even as your citizens slowly freeze to death.
---
Sega's real-time third-person shooter and turn-based strategy hybrid has always been good, but it definitely has not received the acclaim it deserves in the west. I believe Valkyria Chronicles 4 aims to fix that. The game went back to the same timeline as the original, but chose a different group of soldiers to highlight. This makes it a perfect entry point for new players and holds enough nostalgia to serve for fans of the series. The CANVAS Graphic Engine still presents the story like an interactive painting, and it's definitely a fitting format.
---
Stoic shook the gaming world when they released the first entry in their decision-based strategy game back in 2014. Four years later, we finally saw its epic conclusion. With 40 heroes comprised of returning favorites and newcomers, and its well-established penchant of remembering decisions made in previous games, players knew they were in for some quick stabs to the heart the moment they fired up the game. It's still a bit short for some people's tastes, but it wraps up the series well.
---
Everybody dreams of climbing up the career ladder and one day sitting on top. The question is: How will you get there? In Beholder 2, you've just joined the ministry and your ambition drives you to work your way towards becoming the Prime Minister. There are decisions to make, responsibilities to take care of, and shady misdeeds to keep secret. How will your rise to the top take place? Will you be stepping on others to ascend, or will you earn the right to reign. You decide!
---
OK, OK, this game looks a hell of a lot like XCOM. But let's be honest — there are far worse games to copy from. Also, The Bearded Ladies definitely did enough to make their title stand out. First off, exploration is in real-time, which also made adding stealth elements possible. In fact, in practice it feels like an RPG where enemies are visible and battles happen in the overworld. Add in a great loot system. dynamic environments, and the engaging mutation system, and you've got a strategy game that doesn't lose its fun factor as quickly as others.
---
In a world where the last Mech Commander game came out more than 17 years ago, Battletech fills a great void for mech and strategy fans alike. The game comes from series creator Jordan Weisman and the developers of the Shadowrun Returns series. Recruit and develop over 30 mechs and customize them in the MechLab to suit your strategy. Players can also go online to pit their squads against friends and other players. The campaign is great too and stays true to its source material. It's the closest we've seen a game come to the tabletop.
---
Ancestors Legacy brings real-time strategy back to a historical setting with four nations — Viking, Anglo-Saxon, German and Slav — going at each other's throats. Players will be able to pick one of these nations in an extensive campaign inspired by historical events. The game also offers a great tactical experience with factors such as the use of terrain and a deep morale and experience system giving players lots of options and considerations on the battlefield.
---
And that's it for the top 10 strategy games of 2018 for PC. In case you're looking for your next strategy fix, we've listed the best deals for each game so you can get them at the best prices you won't find anywhere else. And remember, you can always visit us here at AllKeyShop.com to read about the best games and check out the best gaming deals on the web. Cheers!
---
ALSO ON ALLKEYSHOP NEWS
---
Top 10 Racing Games for PC of 2018: Got an itching to be speeding? Well, check out the best raing games to come out this year along with their best deals.
---

The post Top 10 Strategy Games of 2018 for PC appeared first on AllKeyShop.com.