Top 10 FPS Games of 2018 for PC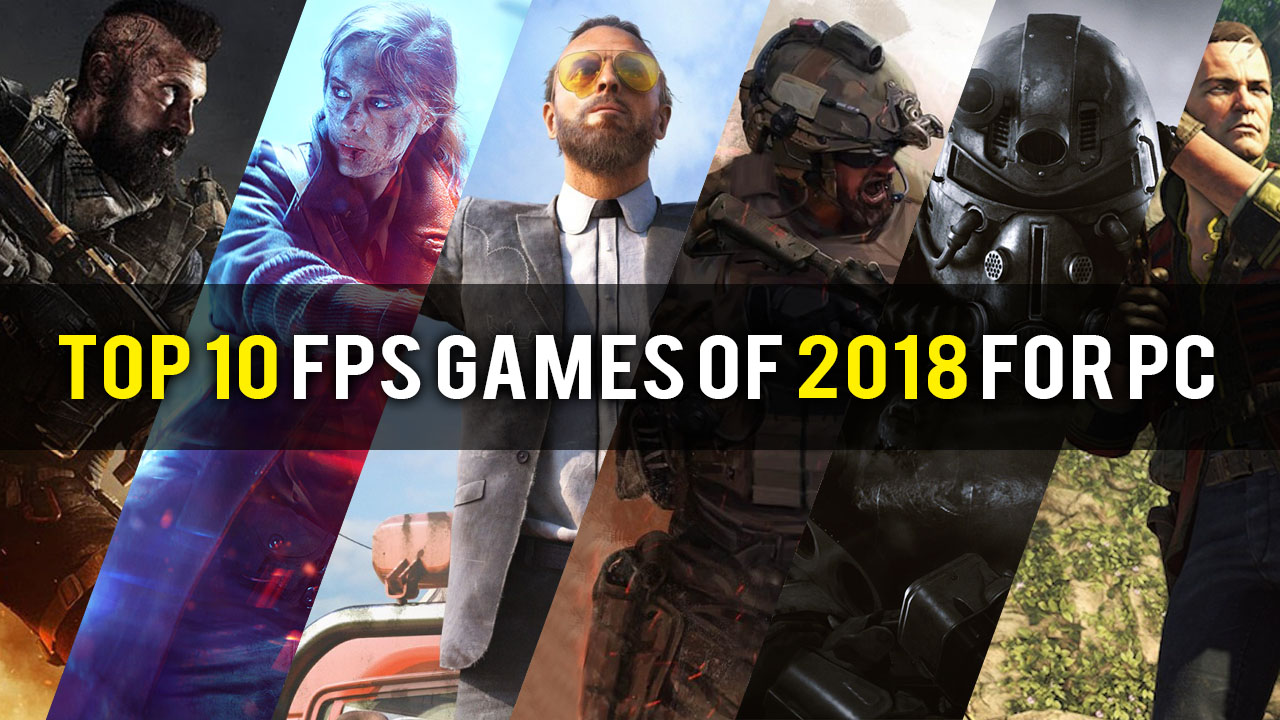 First-person shooters are the most popular games on the planet. Some people might say that's debatable, but the fact is that FPS games sell like hotcakes and that's why most major publishers have at least one in their catalog. And, with so many entries saturating the market, it may be difficult to pick which ones you might enjoy. That's why we've collected the Top 10 FPS Games of 2018 for PC right here. Let's check them out.
---
10 Best First-Person Shooter Games of 2018 on PC
---
No gamer has not heard of the Call of Duty series, even those who are not into shooters. This year, Activision and Treyarch are going with a Black Ops title and they've decided to ditch the traditional singleplayer campaign in favor of both an expanded Zombies mode and a Call of Duty take on the popular battle royale mode. The result is an entry that'll definitely give titles like PUBG and Fortnite a run for their money.
---
EA and DICE's next shooter might have been delayed, but it's definitely promising to be one of the biggest FPS titles this year. This time around, Battlefield 5 will be taking the series back to World War 2 for more boots-on-the-ground action. There may have been a bit of controversy over some historical inaccuracies and how they chose to deal with fan backlash, but when you get to see past those you'll find a game resembling those from the slower-paced glory days.
---
Ubisoft's latest cult-blasting adventure is no critical blowout, but it still quickly became one of the best-selling games of the year from launch and even now. Players will find themselves in Hope County, Montana where a family has taken over the town under the guise of a doomsday cult while forcing "salvation" to the locals. For the first time in the series, almost the entirety of the game can be played with a friend. Plus, there's 3 out of this world adventures offered as post-launch DLC.
---
When newcomers tried out the first Insurgency, they quickly found out that rushing into the battle only earned them a swift death. Insurgency Sandstorm promises to bring back the same tactical focus from the original, rewarding skill and team-play over speed and ferocity. Sandstorm also features new machine gun mounted drivable vehicles for even more tactical approaches. It also includes competitive multiplayer features and tools for broadcasting.
---
Mothergunship takes the best things from the bullet-hell genre and combines them with a first-person shooter presentation to form a hybrid game that extremely frantic and loads of fun. It's deep and expansive crafting system allows players to create the gun of their dreams to unleash on hordes of alien machines and fierce bosses. Pull a friend into the action and fight together as you fight for the resistance and the survival of humanity.
---
Take the Left 4 Dead formula and bring it to Egypt in an alternate history 1930's, replacing the zombies with mummies and other monsters form Egyptian mythology, and you've got Strange Brigade. The game supports up to 4 players in co-op, but there are more than 4 characters to choose from. Rebellion has added in customization options that act as rewards for gameplay, although a loot sharing option is direly needed here. Hopefully, we'll see that in a future patch.
---
The latest entry in the Fallout series has stirred up controversy with its shift to online-only multiplayer focus from the traditionally singleplayer experience. The game puts players in the shoes of one of the survivors from the titular Vault who has just come back out into the world. There are no NPCs to tell the story, instead players will find recordings to listen to. Every person you'll meet is another player, but that won't mean they're friendly.
---
With all the fuss one female character in Battlefield 5 generated, there seems to be great demand for a historically-accurate World War 2 FPS. This is what Post-Scriptum bills itself as, a World War 2 simulation game that places focus on historical accuracy, among other things. In fact, it places such a high value on authenticity that it features realistic combat, photo scanned uniforms, 1:1 scale historical maps, and faithfully recreated weapons, vehicles and landmarks.
---
Overkill, makers of the Payday series, are bringing their co-op shooter expertise to the world of the undead, specifically Robert Kirkman's The Walking Dead universe. This is a four-player co-op FPS where players take on different missions together. If you're thinking Left 4 Dead, don't! You won't be running and gunning zombies here as noise attracts more walkers and you'll soon find yourselves overwhelmed.
---
This is the only game that's still in Early Access on this list, and it's definitely earned its place. In this game, you play as a bounty hunter on the hunt for the savage, nightmarish monsters that roam the Louisiana swamps. Up to 5 teams of 2 set out to track a monster target. Once one team defeats the target, they receive a bounty, which turns the sights of all other teams on their heads. Players also have a special Dark Sight ability that helps track monsters and players carrying a bounty, making them prone to ambushes.
---
And that's it for the Top 10 FPS Games of 2018 for PC. Take your pick from these excellent first-person shooter titles. Once you have, make sure to check out the game's page right here at AllKeyShop.com for the best deals on these games in the entire web. Cheers!
---

The post Top 10 FPS Games of 2018 for PC appeared first on AllKeyShop.com.