Merc Report – Spring Into Field Improvements
Hey Mercs,
With your next assignment heading this way, we felt you were due for a briefing on updated and changing conditions in the field. So let's take a look at the upcoming Quality of Life improvements for all our favorite Zed slayers.
Medics, you know the drill, you do your best to keep the team alive and are often left holding all the complaints. Well this one's for you and your teammates to enjoy together: HUD indicators for medic buffs.
Medics using Adrenaline Shot, Focus Injection and Coagulant Booster will now trigger the following HUD indicators when the effects are in play.
The initial DOSH a player is granted on joining a mission has also been updated. Horzine has decided to be a little more generous so that those joining late in a mission have more opportunity to provide a meaningful impact and not just another meal for a hungry Zed.
Value Changes:
Short:

Wave 1 – from 550 to 700
Wave 2 – from 650 to 850
Wave 3 – from 1200 to 1650
Wave 4 – from 1500 to 2200

Medium

Wave 1 – from 450 to 600
Wave 2 – from 600 to 800
Wave 3 – from 750 to 1000
Wave 4 – from 800 to 1100
Wave 5 – from 1100 to 1500
Wave 6 – from 1400 to 2000
Wave 7 – from 1500 to 2200

Long

Wave 1 – from 450 to 600
Wave 2 – from 550 to 700
Wave 3 – from 750 to 1000
Wave 4 – from 1000 to 1300
Wave 5 – from 1200 to 1650
Wave 6 – from 1300 to 1800
Wave 7 – from 1400 to 2000
Wave 8 – from 1500 to 2200
Wave 9 – from 1600 to 2400
Wave 10 – from 1600 to 2400
Several weapons and perks have also been adjusted to help improve the merc experience. Please keep in mind that these values are subject to change as we progress through our internal testing and public beta process. First up, the weapons:
SA80 L85A2 Bullpup

Weapon weight reduced from 6 to 5
Bullet damage increased from 30 to 32
Initial spare magazines on Trader purchase reduced from 4 to 3
Ammo price per magazine increased from 30 to 32

Freezethrower

Rate of fire of default fire reduced by 30%
Minimum ammo consume of default fire reduced from 4 to 3
Alt-fire damage type changed from "Freeze" to "Ballistic_Shotgun"
Alt-fire base damage increased from 20 to 35 per ice shard.
Number of shards of alt-fire reduced from 12 to 9
Spread of alt-fire shards reduced by 20%
Default fire horizontal recoil reduced by 30%
Alt-fire vertical recoil increased by 50%
And the perks, starting with the Dual 9mm, which has had several perk skills reactivated for use, which are:
SWAT's Tactical Movement, Suppression Rounds, Rapid Assault and Tactical Reload
Support's Tactical Reload
Sharpshooter's Tactical Reload
Demolitionist's Tactical Reload
Commando's Tactical Reload, Prepared, Machine Gunner and Tactician
Other perk skills that have been updated to help provide more meaningful perk choice are:
Berserker

Dreadnaught

Total Health bonus increased from 75% to 100%.

Resistance

Resistance to all damage increased from 20% to 25%.
Additional resistance to Poison and Sonic damage increased from 20% to 25%.

Field Medic

Resilience

Max amount of resistance increased from 50% to 70%.

Sharpshooter

ZED TIME – Ranger

Updated the way this perk skill applies the stun, to be more consistent. Now every shoot of any perk weapon will stun any Zed.
Have you ever ended up on a server that may have their own set of rules that may be different from the standard gameplay rules and found yourself removed from the server? This last change brings a new filter and menu element, for PC players, to the server browser and matchmaking. It's now labeled the "No Local Admin" filter. With this new option, players will be able to look for- and filter out- servers that are using web admin kicking and banning features.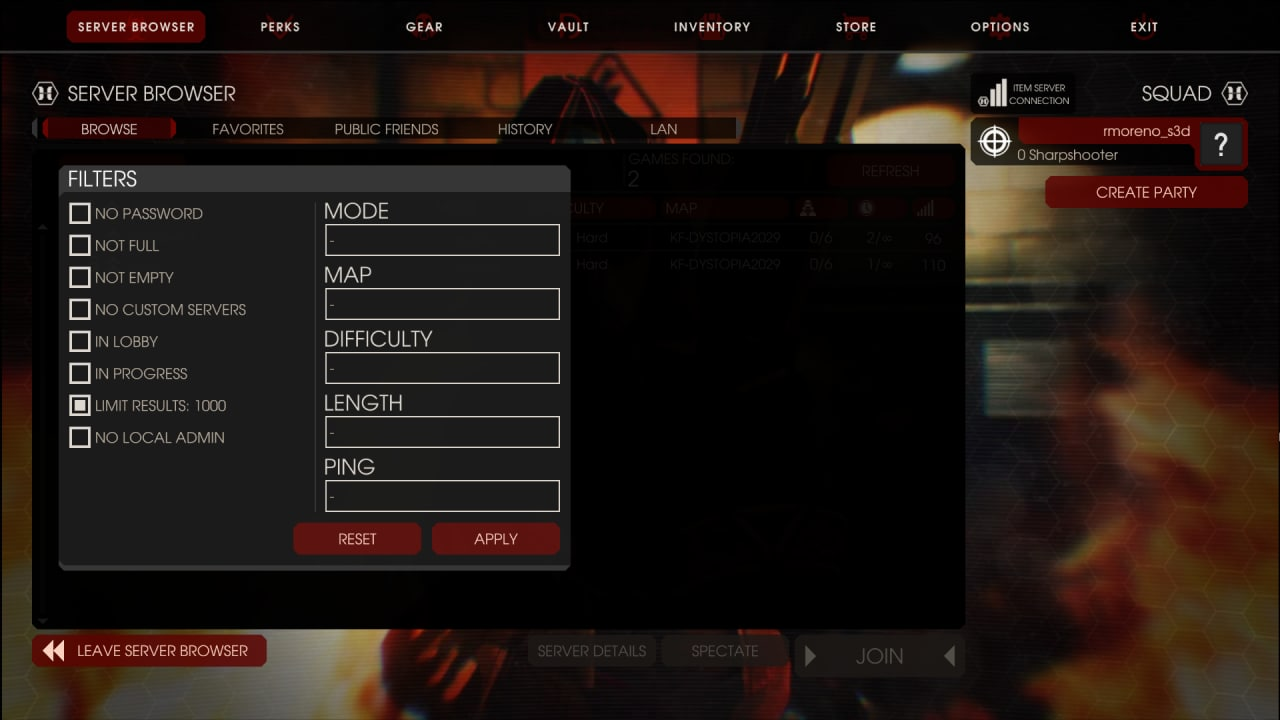 The last thing we would like to bring to your attention is an upcoming new option for how you can obtain weapon DLC , as we experiment with another optional solution to better meet some player expectations. We are doing this in the form of an Armory Season Pass. Starting at $29.99 USD with regional pricing available for supported markets, it would grant players all of 2021's new paid DLC weapons as they become available, and this first season pass will also include all previously released DLC weapons as well. Upcoming weapons will continue to be available to purchase via individual packs and double bundles when applicable to the update but this should provide players a one stop-shop solution at a bulk discount.
Keep an eye out next week for the latest news in the world of Zed slaying tools.