Ghostmower and tons of new stuff!
Hey there Flippers!
As promised on our latest
Developer Stream
, today we bring you a major update, and it's a big one!
On the stream we've also talked about House Flipper VR as it's already out on Oculus Quest[www.oculus.com] and will be out on Steam (with a graphically upgraded version) very soon:
https://store.steampowered.com/app/1194700/House_Flipper_VR/
Without further ado, here's a full list of improvements and changes: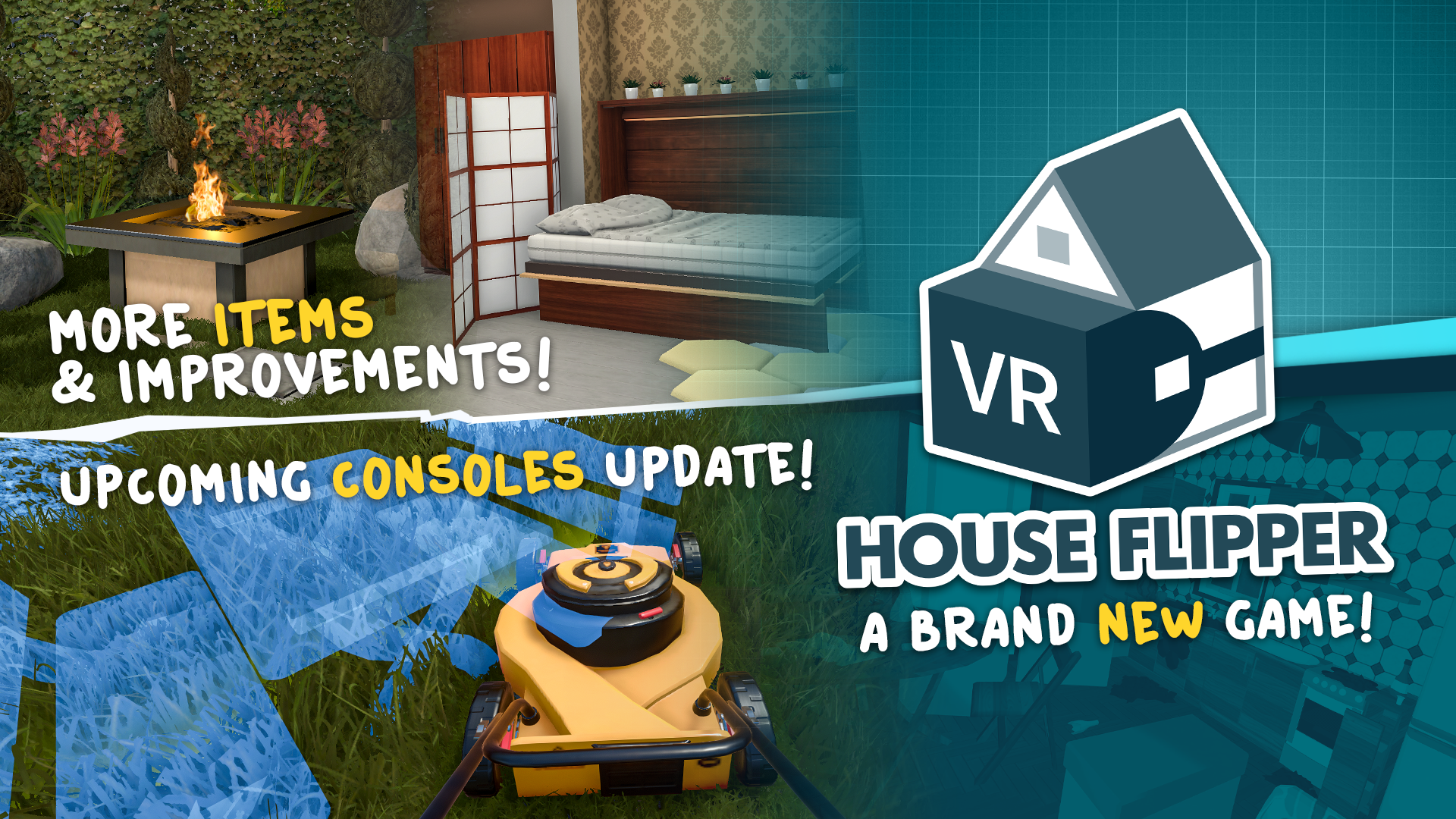 House Flipper
New content
– New items: doorbells, doors, mats, plants, ottomans, cabinets, books, bicycles, curtains, House Flipper posters, a wardrobe, a bread bin, neat fluorescent stars and a cabinet bed.
– New colors for wallpapers and blinds.
– New sizes for Persian rugs.
Changes
– Removed the nuclear tiles and panels disintegrator. Now you can just put them away.
– Good news for vampire flippers. The new curtains may be drawn.
– The game was optimized for older graphics cards with memory problems.
Fixes
– Wall lamps factory defects have been fixed.
– The Edium shower stall was unghostified.
– The selling tool won't keep displaying the last sold item's price anymore. It will also display correct characters in Japanese.
– Asian fonts will now look better, and include previously missing characters.
– Yuan symbol was replaced with the correct one.
– Tiles and panels tooltips have been corrected.
– The pink paint has been removed from rubbish piles (macOS in openGL mode)
– The "works on my machine" factor was slightly improved.
Apocalypse DLC
New content
– A brand new assault rifle for your protection.
Changes
– A new shortcut for flamethrower – the zero key.
Garden DLC
New content
– New items: topiaries, flower bed plants, concrete slabs and pools.
Changes
– Welcome to the ghost realm. The lawn mower was infused with ancient ninja techniques to automatically avoid all your garden stuff when mowing.
– Patios may now be sold.
– You may now spend a cozy evening next to a lit brazier in your garden.
HGTV DLC
Fixes
– Kors shower stall can now be properly mounted.
– Order map starting position was improved. The map is now automatically opened in the same place it was closed.