Top 20 Games for Mac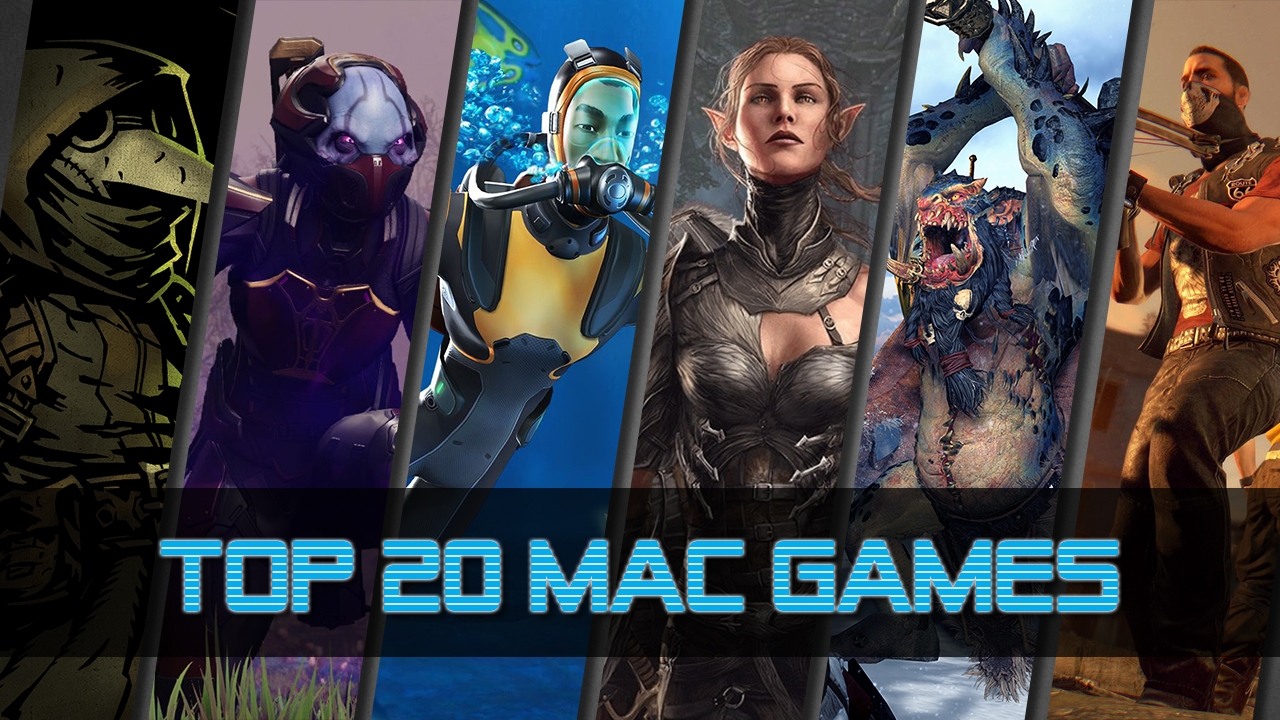 ---
---
Best Games You Can Play on a Mac
---
Giants Software is responsible for developing the best-selling Farming Simulator franchise by ensuring each new instalment is a significant improvement upon the last. Farming Simulator 19 is no exception as it sports the most striking and immersive visuals and effects courtesy of a new graphics engine. The overhauled visuals do justice in accentuating the captivating gameplay which provides the deepest and most complete farming experience ever on Mac OS.
---
Stellaris is a sci-fi space strategy game that was developed by Paradox Development Studio and one of the best games available for Mac OS. The game offers players a thrilling opportunity to explore and discover the wonders of a spectacular and ever-changing universe. Players have been loving the game since its release in May of 2016 and have left many positive reviews on the game's Steam page. According to critics, Stellaris is easy to comprehend and exciting to execute which is perfect for games in the genre.
---
Team17 and Ghost Town Games merged forces to bring you the truly exciting cooking simulation game that is Overcooked 2. This game is one of the most highly rated on steam and a favourite among Mac OS players. As you may have already guessed, Overcooked 2 is a sequel to Overcooked which was greeted with a similarly warm reception by fans of the genre. Journey back to the Onion Kingdom and form your team of chefs to have a classic couch co-op or online cooking simulation experience.
---
Dying light is a first-person action survival game that takes place in a post-apocalyptic open-world that has been inhabited by zombies. In the game, you roam the infested city scavenging for supplies with which you can craft weapons to aid you in fending off the salivating hoards of the undead. You can take on the hoards alone or with up to three other players in the cooperative mode. Dying Light is one of the best games in the genre so it is one of the top games on Max OS by default.
---
Europa Universalis 4 is a really good game for anyone who has ever dreamed about building their own empire governed by their own legislation. In this game, players have supreme control over a nation which they must guide for generations in an effort to nurture it into the formidable empire it ought to become. The game is cheered for its unparalleled freedom, depth and historical accuracy. It enables you to exercise your diplomatic capabilities as you engage in cross-platform multiplayer exploits.
---
Total War: WARHAMMER 2 is a turn-based strategy game developed by Creative Assembly and Feral Interactive. It is labelled as strategy gaming perfected by adoring fans and reputable critics who have had the pleasure of playing it. The game offers breath-taking campaign of exploration, expansion and conquest across a vibrant and fantastical world. More specifically, it awards players a chance to be the commander and lead thousands of troops and monsters into real-time strategy battles.
---
XCOM 2 is the sequel to XCOM: Enemy Unknown, which is the 2012 award-winning strategy game of the year. There is no surprise the sequel is regarded as one of the best strategy games in the world when its predecessor is considered. XCOM 2 is everything that made XCOM great, and everything the fans needed it to be. In this instalment, Aliens have conquered Earth and it is your duty to rebuild XCOM, and ultimately ignite a global resistance in an effort to reclaim the world and save humanity.
---
Cities: Skylines is a game that belongs to the class of remarkable city-builder games. Though it is of the same genre as the rest, it dares to be different but offering a much more modern take on the classic city simulation games. The game was developed to wow players with new elements that emphasize the thrill and hardships of creating and maintaining a real city. This must be done whilst expanding on some well-established tropes of the city building experience.
---
Enter the Gungeon is a bullet hell dungeon crawler brought to us by Devolver Digital and developed by the talented Dodge Roll. The fast-paced, rogue-like, bullet-hell experience that it offers has been magnetizing players since its release back in 2016. Today it is referred to as one of the best games on Mac OS. Grab your copy of the game to join the wacky band of misfits that are certainly up to no good. You can shoot, loot, dodge and roll your way to acquiring the legendary Gungeon's ultimate weapon.
---
Darkest Dungeon is one of the most highly-rated turn-based role-playing games on Steam and Mac OS. This rogue-like game is known for its capacity to challenge players in very unique and stress-inducing ways which are significant lures for many fans. Consequently, it enjoys a dedicated player-base who enjoy recruiting, training, and leading their team of flawed heroes against unimaginable horrors. The game challenges you to keep your heroes devoted to the cause in the darkest and seemingly hopeless times.
---
Don't Starve Together is situated among a prestigious lot of games to receive a perfect score of 10 on Steam. Games this highly rated are usually cheered with overwhelmingly positive reviews and this is no exception. For those who don't already know, Don't Starve Together is a co-op survival game that takes place in a sprawling open world. The environment is teeming with strange creatures, dangers, and surprises that you must withstand while gathering resources necessary for survival.
---
Kerbal Space Program is a space simulation game developed by Squad for Mac OS. In the game, you take command of the space program for an alien race known as the Kerbals. At your disposal is a wide array of parts with which you can assemble fully-functional spacecraft. Design your spacecraft specific to the task you would like to have it perform. The game garners much of its attention due to its realistic aerodynamic and orbital physics which ensures a satisfying and rewarding experience.
---
Starbound is one of the more unique sandbox survival titles available for Mac OS as the gameplay follows an equally unique and interesting storyline. In the game, you assume the role of a space explorer who had just fled from home only to find himself stranded in space in a damaged spaceship. In an effort to preserve your existence, you beam down to the planet below to repair your ship and settle. Become an intergalactic landlord as you hop from planet to planet on a quest to explore, discover and conquer.
---
Factorio has received overwhelmingly positive reviews on Steam as well as a perfect Steam score or 10 out of 10. The preceding statement strongly indicates that if you are in search of a base-building management game, you might not need to look further than Wube Software's labour of love. Become counted, amount the thousand of players on Mac OS to build and create automated factories that produce items of increasing complexity, within an infinite 2D world.
---
Ludeon Studios' survival strategy simulation game, RimWorld has been one of the most celebrated titles on Steam since release. Today it remains a one-stop destination for strategy-sim enthusiasts for its depiction of sci-fi elements that complement a captivating the Storyline. This intelligent AI storyteller draws inspiration from Dwarf Fortress and Firefly where it generates stories by simulating all sectors of society from psychology to interpersonal relationships.
---
On February 26, 2016, ConcernedApe released Stardew Valley to the gaming world and it was immediately embraced by gamers all around the world. It has been quite some time since and its adoration has not dwindled in the least, making it one of the best farming simulation games available. In the game, you have just inherited your grandfather's old farm plot in Stardew Valley and it is your duty to employ the tools and other hand-me-downs to achieve and maintain the standard the farm was in its prime.
---
Valve Corporation's reputation precedes it as it is responsible for bringing us some of the most monumental games in the industry. The developer's first-person puzzle-platformer game Portal 2, is no exception. It is highly rated and sought after by fans all around the world, many of which document their glee-filled experiences in Overwhelmingly positive on the game's steam page. Portal 2 is definitely a game you should consider, especially if you are gaming on a Mac OS.
---
Oxygen Not Included is every bit as intriguing and straight forward as the name suggests which makes the game highly accessible and magnetizing. The gameplay takes place deep inside an alien space rock where you and your crew of industrious explorers and doing all you must to survive. In doing so you will need to master science, overcome strange new lifeforms, and harness incredible space tech. Grab yourself a copy to indulge in Klei Entertainment's space-colony simulation game.
---
Divinity: Original Sin is an award-winning RPG so there is no surprise its sequel, Divinity: Original Sin 2 is placed within the same conversation as some of the best games on not only Mac OS but in general. The game offers an arguably unparalleled turn-based, story-rich, role-playing experience. With this title, Larian Studios has created an environment for players to demonstrate their tactical prowess as they master the intricacies that separate mere explorers from formidable conquerors.
---
Subnautica is a truly awe-inspiring survival game that takes place in a rich and gorgeous aquatic open-world. Unknown Worlds Entertainment invites you to descend into the depths of an alien underwater world filled with wonder and peril. In the game, you can craft equipment, pilot submarines and out-wit wildlife as you explore beautiful coral reefs, volcanoes, cave systems, and much more. As attractive as the environment is, it is not without challenges which makes the game daring and very satisfying to play.
---
ALSO ON ALLKEYSHOP NEWS
---
 

Got nowhere else to be but home this Halloween? Then check out our recommendations on some horror games that will be perfect for this Halloween weekend.
---

The post Top 20 Games for Mac appeared first on AllKeyShop.com.