Developer Spotlight – Mike Stone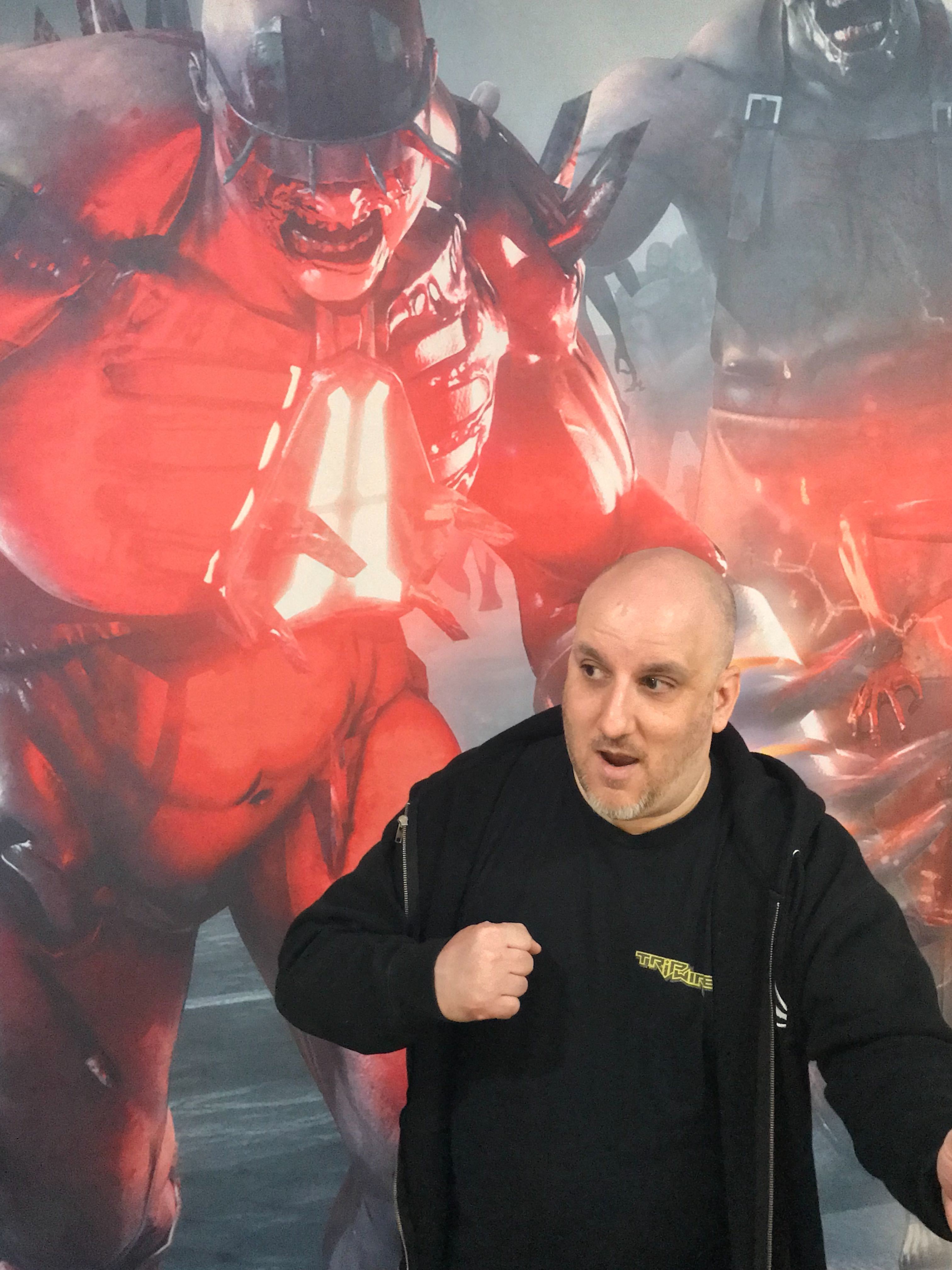 Developer: Mike Stone
Title: Producer – Killing Floor 2
For starters, can you provide a brief synopsis of who you are and what your role is within Killing Floor 2 and other projects?
My name is Mike Stone and I am the Producer on Killing Floor 2. My role on Killing Floor 2 is to ensure all scheduled tasks and other initiatives are delivered on time and that each team has no barriers preventing them from completing their assigned tasks. Before moving over to Killing Floor 2, I was Producer on Rising Storm 2: Vietnam where my main priority was preparing the game for launch back in 2017. I still participate in various initiatives with the Vietnam team but my primary focus is Killing Floor 2.
Taking a deeper dive into this question, I work very closely with the Product Lead and other department heads whether it be for scheduling, task tracking, planning and participating in weekly playtests etc. I often engage with the community on our social media platforms, forums, and Twitch. Whether it be to drop in and say hello to everyone, reviewing posted feedback, or assisting where a player may be experiencing an issue with the game. My engagement with the community is always a terrific experience.
Another part of my job is planning, organizing, and seeing through all content update trailers. Working with external partners for our trailers is something that happened very early on in my career at Tripwire and it stuck with me ever since for all of our projects. It's definitely an area that requires quite a bit of iteration for all review sessions. Part of the fun with working on trailers is determining what bonus content we add after the credits of a trailer. Sometimes we add an easter egg that is a tease for a future update. It's always fun watching the community try to figure out what exactly we're hinting at. Be sure to check the very end of the recent Cyber Revolt trailer 😉

Production can mean different things across different industries, how would you define the role of production within the video game industry?
Based on my 18 year experience of being in the Game Industry, a Producer's main role is the bridge between all disciplines. The facilitator if you will. Depending on the studio, there are Producers that actively participate in game design while other studios a Producer would have little to no engagement in game design. A Producer can also be the face of marketing by participating in live interviews, trade shows and via online messaging. It truly all depends on the studio and skillset of the Producer. At the end of the day, however, the core role of a Producer is to keep the project moving forward and communication flowing between all departments.
Take us through a typical day of work at Tripwire for you, what is it like when you show up at the office?
Step 1.. Coffee! After I've settled in, I begin to catch-up on any unread emails from the previous day. After that, my morning meetings begin. The first of those meetings is syncing up with the Quality Assurance team listening to what they were able to accomplish from the prior day along with answering any questions they may have. My next meeting is meeting up with the Platform team where we'll cover any issues that may be occurring with live services. My morning meetings conclude with team standups. During standups, the development team goes over progress on their tasks. This is also an opportunity for folks to bring up any questions or concerns they may have with their task that they discovered throughout any given day.
As for my afternoons, the meetings continue but on a 'need to' basis. One day may be a meeting to review the latest trailer progress and the next day a meeting could be about upcoming initiatives. In summary, I'm generally always on the move whether it be at a meeting or working with various developers. It's what I truly love about being a Producer, it's always a new experience each day!
What skill sets and qualities do you need most to be a great Producer?
Being able to effectively communicate with both management and the team as a whole. As a Producer, you work with many personalities and skill sets. It's important to 'know your audience' and how to effectively make the most of each conversation. It's also important to ensure that all disciplines are communicating with one another and that there are no loose ends from a hallway conversation etc.
Having a calm and patient demeanor is key. As Producer, you will often be faced with emergent and difficult situations that can happen at any time of the day, week, or month. When you're faced with these situations the team is going to look to you for answers, suggestions, and guidance. You have to handle the situation in such a way that will instill confidence in the team.
The ability to notice the warning signs that may derail a scheduled task, sprint, or milestone can be paramount. This skill set can often come down to how much experience you have as a Producer. I've been in the Game Industry for 18 years now and I've been through a lot of unique situations. As such, I can thankfully rely on what worked and what didn't work in the past. With this said, there's always situations that will be new and unique. It's how you manage and learn from each situation that will prepare you for the future
How long have you been employed at Tripwire?
I started working at Tripwire back in October 2016. That puts me at 2.5 years now with the company. Time flies!

Please list a background on all the previous titles you worked on across the years and what role you played in them?
MMOs:
Dark Age of Camelot – I was a Designer and Environment Lead. I designed and built several dungeons for Camelot's expansion packs. I was also part of the starting areas revamp project where I re-sculpted the terrain for all of the starting villages in DAoC to make them more welcoming to new players and each to have a unique look.
Imperator Online – I was design lead on this project. This project was deep in development but was never released. This was part and parcel due to acquiring the rights to work on Warhammer Online: Age of Reckoning
Warhammer Online – Warhammer is where I began my journey in to the Production path as Associate Producer. I was in charge of managing the capital cities team. Aside from the creation of the capital cities, the goal for that team was to create living breathing cities for our audience. I am very proud of what the team accomplished!
Wizard101 – My production journey continued with being an Associate Producer on this title. This title was geared towards a younger audience and having a daughter at the recommended age for this game made for an even more exciting adventure.
Pirate101 – I was promoted from Associate Producer to Producer during my tenure on this project. Pirate101, while still playable by a younger audience, was more geared towards the teen audience. It was an MMO with turn based combat. Quite unique at the time!
FPS:
Rising Storm 2: Vietnam – I joined Tripwire Interactive as Producer for this title. While my career was filled with MMO experience, I am a huge FPS player and Rising Storm 2 fit the bill perfectly. My role here was to bring the title to release while working with a remote development team. This was a different experience than I was normally accustomed to but we had a terrific team working on the project. It was an honor to bring this title to the masses.
Killing Floor 2 – In late 2018 I was brought on to the Killing Floor 2 team as Producer. I was an active player of Killing Floor 1 and 2 before being hired at Tripwire so the transition was exciting. I work closely with David, the Product Lead on KF2, on a daily basis. We have exciting things to bring to KF2 in 2019
As a Designer, what was your favorite quest you worked on and why?
In Dark Age of Camelot, there was a quest line in the Darkness Rising expansion that had the player explore the Demonic Prison. As players explored the prison, they ran into a massive spider named Bolehs. Bolehs spelled backwards is Shelob, the large spider from Lord of the Rings. It was fun seeing how many players figured that out. I'm a big fan of discovering easter eggs in games.
Given you've been in different roles throughout the industry from Technical Support Lead, Call Center Manager, Designer & Environment Lead to now Producer, why do you think you have focused on Production for your career path?
Ever since joining the Game Industry I absolutely loved assisting others and working on bringing big picture items to fruition. I have the honor of working with so many talented people on a daily basis that it truly is a joy coming to work each day. I'm also one who seems to thrive under pressure, and as a Producer, you'll always have those moments. Being a Producer keeps me on my toes and I'm a-ok with that!
What was your first computer and console system?
And this is the part where I date myself. My first computer was a Commodore VIC-20. The first game I played on the Vic-20 was Pirate Cove. I believe this was my first text adventure game. It was awesome at the time!
My first console system was the Intellivision. B-17 Bomber and Burgertime were my go to games for that console. The controllers were horrible, however.
What's your all time favorite video game and why?
Tough question. I'm going to break the rules and give you my top three!
The Dig by from Lucasarts
Gabriel Knight 2: The Beast Within from Sierra
Battlefield 1942 from DICE
Each of those games holds special memories for me and as you'll notice, they're all very different from one another.
What is your favorite Perk to play in Killing Floor 2 and why?
I really enjoying playing as a Firebug. I'm a fan of weapons in games that spray fire, poison etc Something about being able to torch multiple Zeds at once feels satisfying.
What aspect the latest Cyber Revolt update for KF2 are you most excited by and why?
Definitely the Killerwatt. It's an amazing looking weapon and it is quickly becoming one of my favorite weapons to use. I look forward to seeing what the community thinks of this one!
Do you have any favorite hobbies outside of video games and work?
With Spring right around the corner, my family and I have a lot of activities that we'll be taking the kids to. My son has Soccer on Saturday's which I really enjoy attending. I used to coach soccer and I'm getting the itch to do that again. My daughter is starting cheerleading soon and that will be a new adventure to partake in. Watching movies and listening to music definitely occupies my time during the week as well.
Any final parting words of wisdom for those that want to get into the industry and otherwise?
There are many avenues to get your foot in to the industry. I'm a big proponent of folks starting in the QA field. QA is such a huge part of what makes an "ok game" at launch instead turn out to be a "great game". QA also works with so many different disciplines that the experience and knowledge they acquire is such a huge bonus.
There are also a lot of accessible tools these days where you can create games on your own. Experiment and put the time in where you can. Any form of game related experience will certainly look good on a resume!