THE DIVISION SHIELD #11: MARSHAL LIVE NOW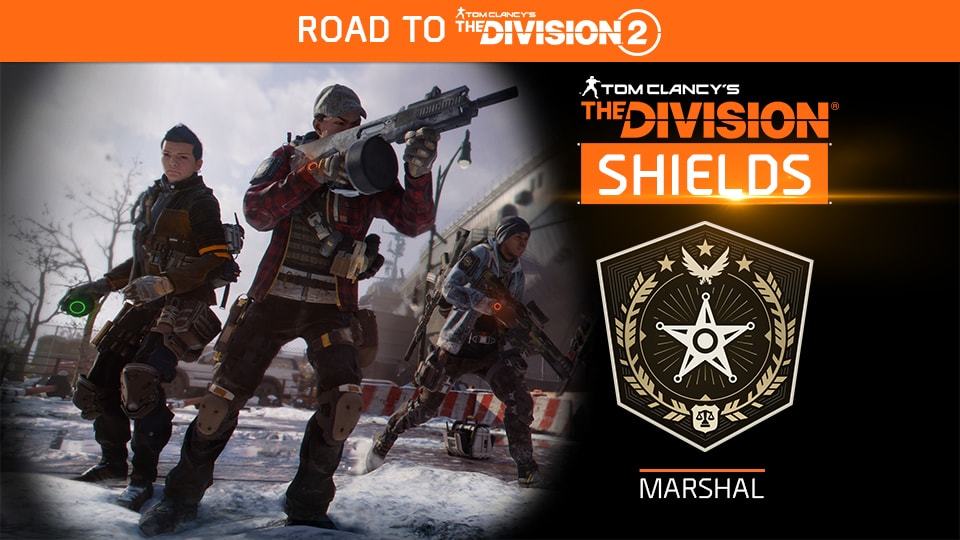 With ten Shields already released, we are back with number eleven! Today, we are introducing the Marshal Shield!
Marshal inspires the looter-shooter in every Agent, requiring players to collect all Exotic armor and weapons in the game. These items are orange/red in quality in your inventory. If you need a refresher, a full list is available below.
Ferro's Oxygen Mask
Barrett's Bulletproof Vest
Shortbow Championship Pads
NinjaBike Messenger Bag
Skulls MC Gloves
Colonel Bliss's Holster
Bullfrog
Caduceus
Liberator
Warlord
Urban MDR
The House
Midas
Thompson M1928
Tommy Gun
Eir
Hildr
Pakhan
Hungry Hog
Big Alejandro
Historian
Tenebrae
Devil
Heel
Cassidy
Medved
Showstopper
Centurion
Damascus
Golden Rhino
Some Exotics are available at the Terminal's Special Equipment Vendor, while others can be farmed from the same sources as Classified Gear. Do not forget about Assignments either—Weekly, Underground, and Survival Assignments all award one Exotic Cache per week, per character. If you have already collected these Exotics, Marshal will automatically unlock! If not, get looting, Agents!
MORE ON SHIELDS
Found in the first tab of the Dossier, Division Shields are a group of unique commendations that reward both long term and new players for completing very specific challenges across The Division. Remember to check back in, since an additional Shield will become available every month for you to unlock.
CURRENT SHIELDS
New! Marshal – Acquire all Exotic armor and weapons
Prime – Collect three full Classified gear sets
Fang – Complete every available mission on Legendary difficulty
Rebel – Get to wave 15 in Resistance
Talon – Attain a Commendation score of 3,000
Phoenix – Extract 5 items, survive for 5 hours, and kill 5 Hunters in Survival
Sacred – Complete 10 phases, get to level 10 and kill 10 Hunters in the Underground
Shepherd – Unlock the Base of Operations
Avenger – Eliminate 10 Named bosses in Manhattan, 10 in the Dark Zone, and 10 in West Side Piers
Deadeye – Complete all weekly High Value Targets
Hazard – Clear 25 landmarks in the Dark Zone
THE DIVISION 2 REWARDS
As Agents collect Shields, you will be placed in a tiered system. The more Shields earned in The Division, the higher the tier you reach, the more rewards you will receive in The Division 2. A higher tier grants players more rewards:
Tier 1 – Weapon Skin
Tier 2 – Outfit and Patch
Tier 3 – Emote and Gear Dye
Tier 4 – Taunting Emote and Backpack Trophy
/The Division Dev Team