ENCRYPTED COLLECTION CACHE ARRIVES IN THE DIVISION
Encrypted Collection Cache Arrives in The Division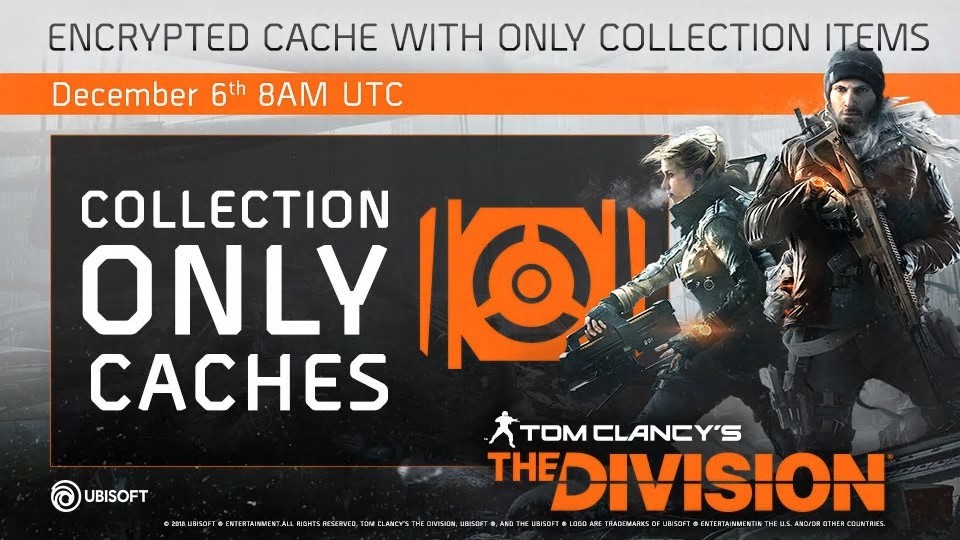 Agents!
We have released four iterations of the Encrypted Cache since its launch, with 19 collections bundled throughout Mark I – IV. We wanted to give players a more direct opportunity to earn the collections. On December 6, we are introducing the Encrypted Collection Cache! Found at the Premium Vendor in the Terminal, these loot containers include exclusive vanity items that are purely cosmetic. Designed with vanity hunters in mind, the Encrypted Collection Cache only contains collection items. If you are missing cosmetics from any of the 19 collections, this cache is your chance!
With the introduction of the Collection Cache, we are decommissioning the Mark I – IV caches on January 10th. While the caches themselves are being removed, players will still have the opportunity to earn their contents periodically on the in-game store as direct purchases. Be sure to keep an eye out!
We are also reintroducing last year's Holiday Cache for a limited time! Until January 10th, you can earn the Winter Holiday Collection alongside holiday emotes.
Opening Encrypted Caches requires Cypher Keys, which can be earned through a few different means. The first is simply by playing The Division. Killing bosses, completing Commendations, and completing Search and Destroy missions all reward Cypher Key Fragments. Ten Fragments are required for one Cypher Key, and one Cypher Key opens one Encrypted Cache. The alternative is through Premium Credits, which can be purchased at the Premium Vendor. Cypher Keys can be purchased in bundles to open Encrypted Caches.
Thank you to our community for supporting The Division! Be sure to share your Agents in complete Collections with us on the Official Forums[forums.ubi.com], Reddit, and Twitter!
/The Division Dev Team