Update 4 news + Fan Forge Challenge
Hey everyone!
Just wanted to give a quick update on the happenings right now!
When's Update 4?
We're currently hard at work getting all that new sweet content into the next coming Updates. There are still a lot of things we want to fix and implement before the game reaches 1.0 so you can expect more updates to the game before then.
We're expecting the next coming update to be available sometime early 2021. However, between then and now we're going to be rolling out a few patches and a minor update to the game expected in early November.
This minor update will contain:
General bug fixes
Optimization
Quality of Life features/fixes
An Update to Fluids
We'll be revealing more information as to what's coming when as we get closer to the completion of these updates!
What's the situation with Dedicated Servers?
We've been working on dedicated server for ages it feels like, and while the steam release took a lot of focus away from dedicated servers, some work that went into cross-play and the steam release also benefited dedicated servers.
We've decided to put more of a priority on dedicated servers but we don't have a good ETA for them yet. Dedicated servers will be its own thing and will be released independently from Update 4 so as soon as we're ready, we're going to the possibility to host dedicated servers available.
Fan Forge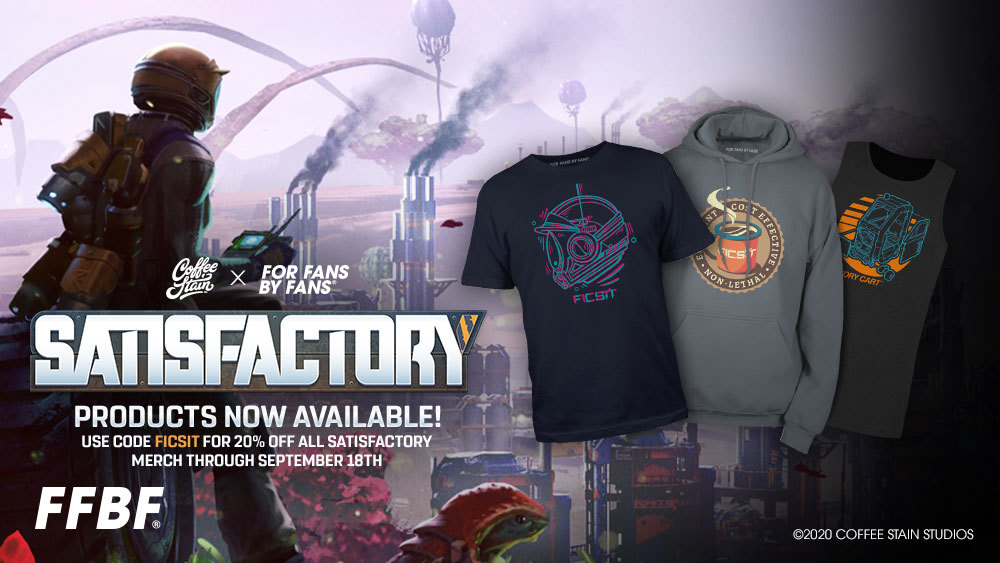 Last week we finally launched our first lineup of Merch over at For Fans By Fans[www.forfansbyfans.com]! We're super stoked to finally have merch available and with that we're now also kicking off something over at ForFansByFans called Fan Forge[www.forfansbyfans.com]!

[www.forfansbyfans.com]
Fan Forge is an open gallery for artists to submit their fan art and ideas of merch for Satisfactory! There, your designs will be shared and rated by the community for the chance to become real officially licensed products! ALL selected artwork will earn a commission per item sold on For Fans By Fans website, through wholesale, and at conventions.
With this we'll be having a launch challenge with some prizes and goodies! You can read more about it on our Fan Forge page[www.forfansbyfans.com]!
If you wanna learn more about the above topics you can check out this video we just released on our lil YouTube channel.
Until then take care, really looking forward to see what y'all create on Fan Forge[www.forfansbyfans.com]!
Peace,
Snutt