Developer Spotlight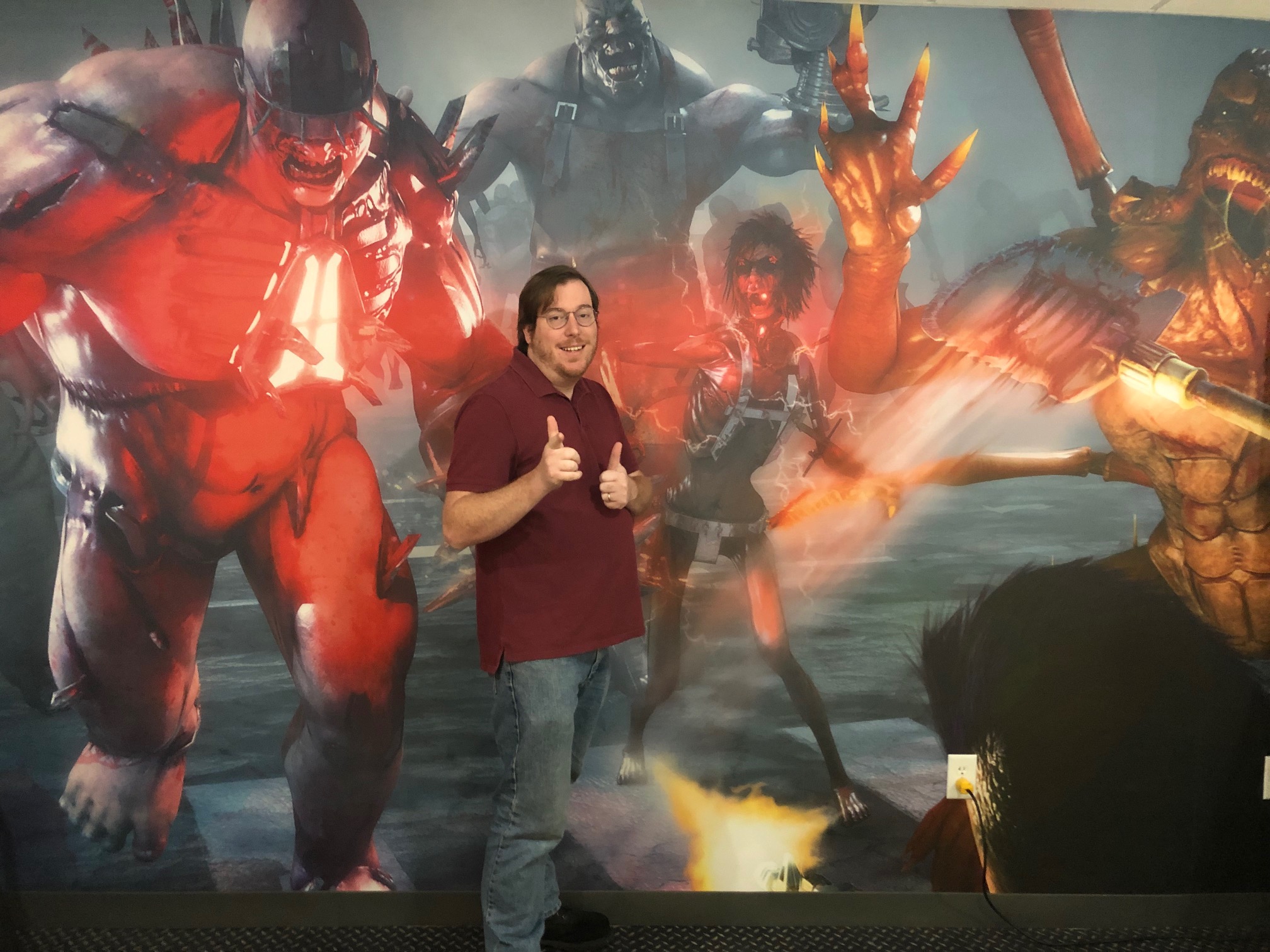 Developer: Josh Stanley
Title: Junior Technical Artist
For starters, can you provide a brief synopsis of who you are and what your role is with Killing Floor 2?
My name is Josh Stanley and I am a Junior Technical Artist for Killing Floor 2. My Role has four parts. The first part is rigging. I set up new weapons and characters for animation. The second part is integration. This includes putting characters, cosmetics, weapons, and weapon skins into the engine. The third part of my job is back end setup. When we get new weapon skins or cosmetics it is my duty to make them accessible to players when it is time to ship. The last part of my job is FX. I work under our FX lead to create and/ or complete FX for environments and weapons.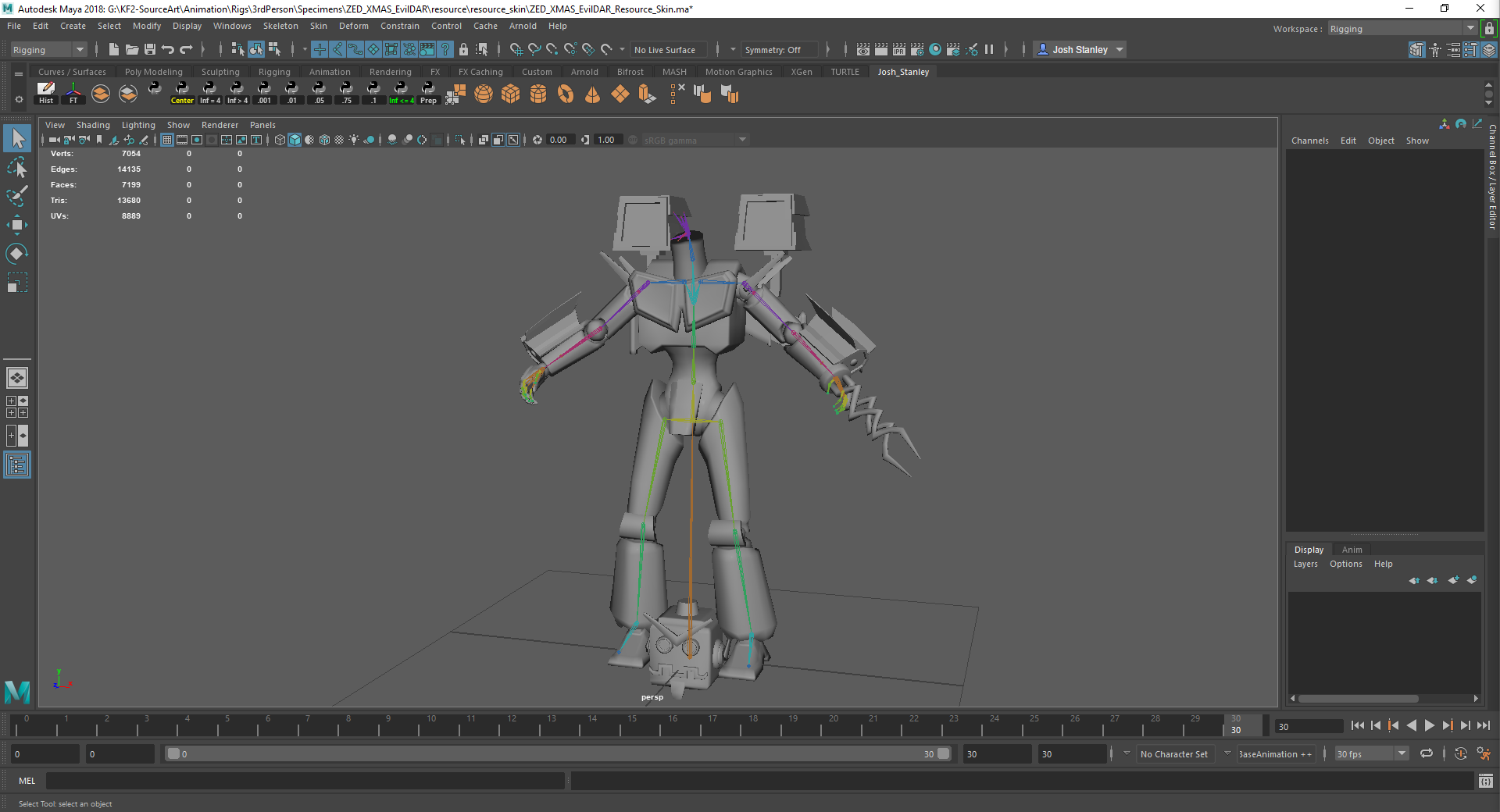 How long have you been employed at Tripwire?
I have been at Tripwire for 10 months as of writing. It's hard to imagine that almost a year has already gone by.
Take us through a typical day of work at Tripwire for you, what is it like when you show up at the office?
Once I arrive at work, I grab my morning water and sync up all my software while totaling my work time from the day prior. I check my email and company messages before creating a personal schedule for the day based on the tasks that I have left to complete for the sprint. After I have my plan of attack, I throw on some music and work until our morning meeting. Once that is complete, I work until lunch. I prefer to work on rigs and FX during this time so that I can get input on it later in the day.
After lunch is generally reserved for the big ticket and/ or more volatile projects. That way should something go wrong or if there is required input from someone else, I know that they are in the office. There is a 4 hour window for this kind of work.
Towards the end of the day I switch back to projects that are less likely to cause problems for other people. During this time I often catch up with my leads about project direction and begin closing out tasks and setting myself up to come in the next day and do it all again.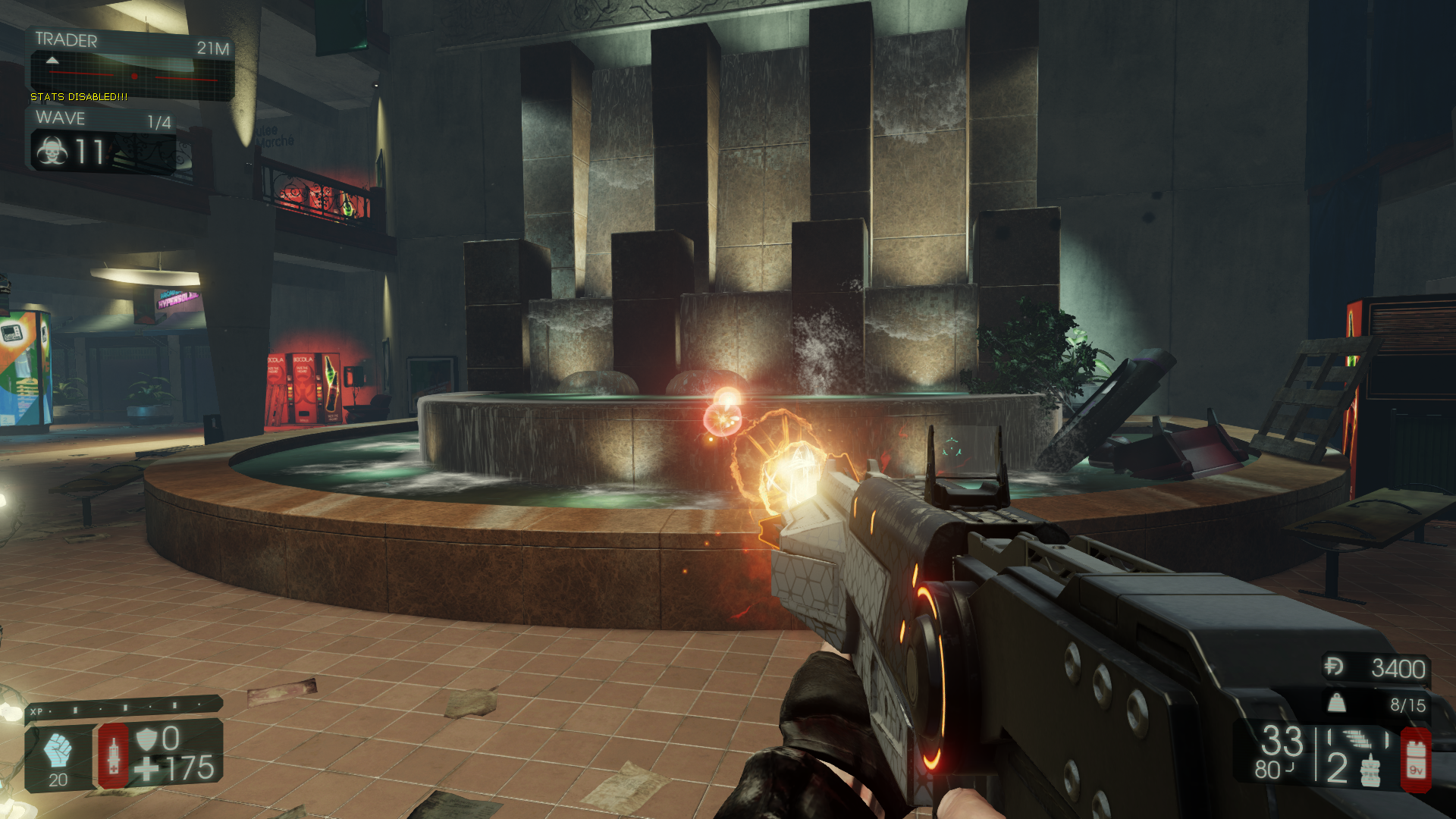 How did you get started in the Games Industry?
My first serious step into the industry was going to trade school with a focus on video game production. From there I learned the fundamentals necessary to make personal strides on projects and my portfolio. I worked as a teaching assistant for the program, working on my own personal projects during the same time until I was able to join the Tripwire team.
What about technical art made you want to focus on that field as a career?
Art and artistic expression are important to me. I also enjoy structure and design. I'm far from a stoic pragmatist, but having a clear set of rules makes it simple (though not always easy) to figure out any problem that plays within those rules. On top of that I enjoy a challenge. Technical art is the perfect fusion of these three sentiments. There is a great deal of creativity that goes into rigging and FX and when something isn't working, or is working incorrectly, you can trace your steps backward and find out why that is.
With Technical Art there is a certainty in the present that makes the unknown of the future exciting with every job. You might not know what it will take to make something awesome, but you know that all the tools are there to help you figure it out.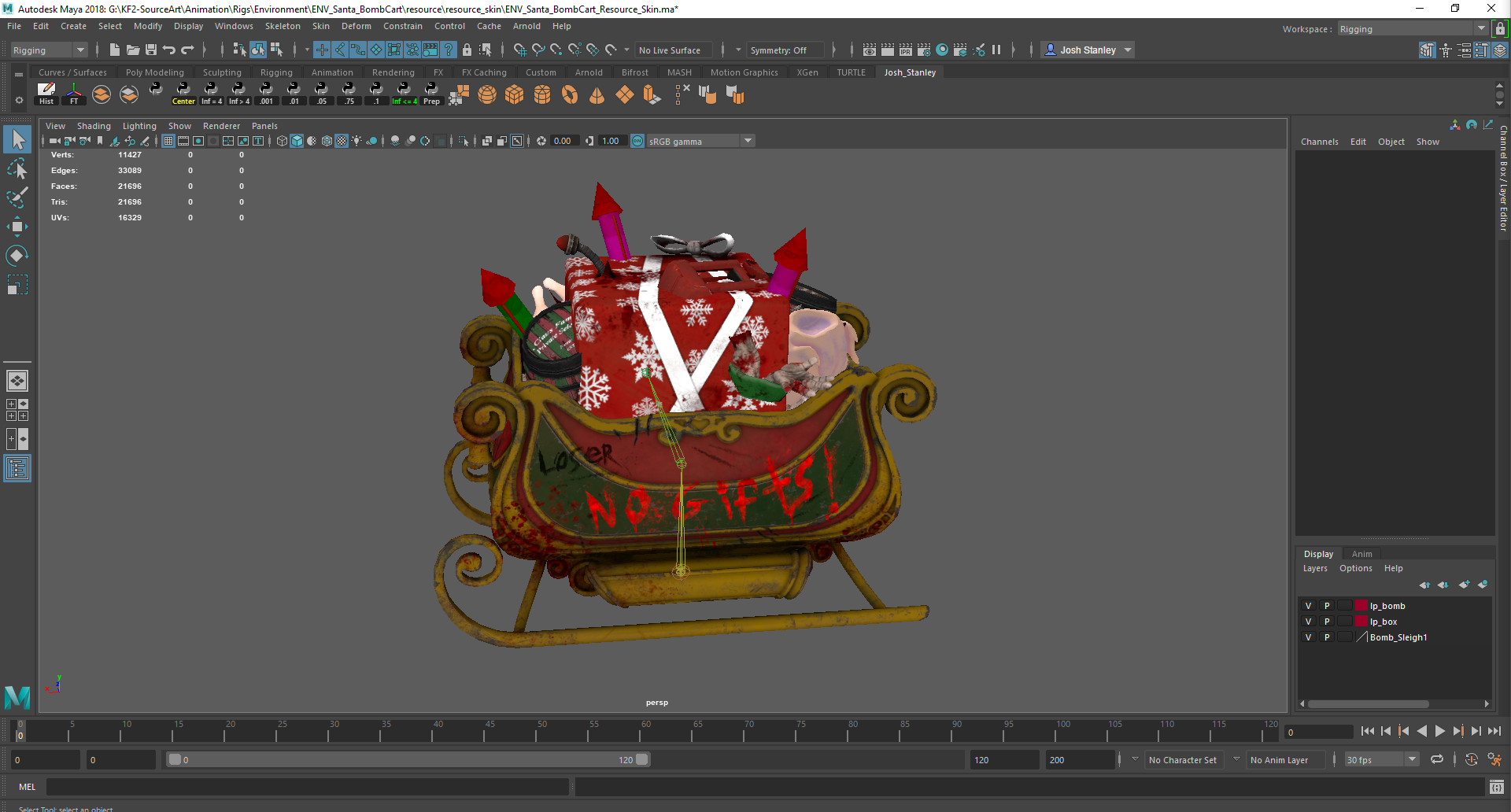 What accomplishment are you most proud of while working in the Games Industry?
As cheesy as it may sound being a part of the Tripwire team. I've known for a long time that this was the career I wanted to pursue, so finally making it is a very important accomplishment for me.
What hobbies do you enjoy outside the workplace?
Cooking and Tabletop Gaming.
Despite having worked in food service for nearly a decade I've never lost interest in cooking. I like to try new and weird combinations, Particularly with soups and seafood. Where some would want to be the next Chef Ramsey, I'd rather be the next mayor of Flavor Town.
I will never turn down a good board or miniatures game, but my true love of Tabletop lies with RPGs. I have been the forever GM for years (Though I don't hate it like some do) and I love rolling dice on the opposite side of the screen. There are plenty of systems I haven't found many that I didn't like in some way. My group back home was comprised mostly of Game Masters so there was never a lack of content.
When I'm not playing on the tabletop, I'm designing for it, working on my own system for the last five or so years.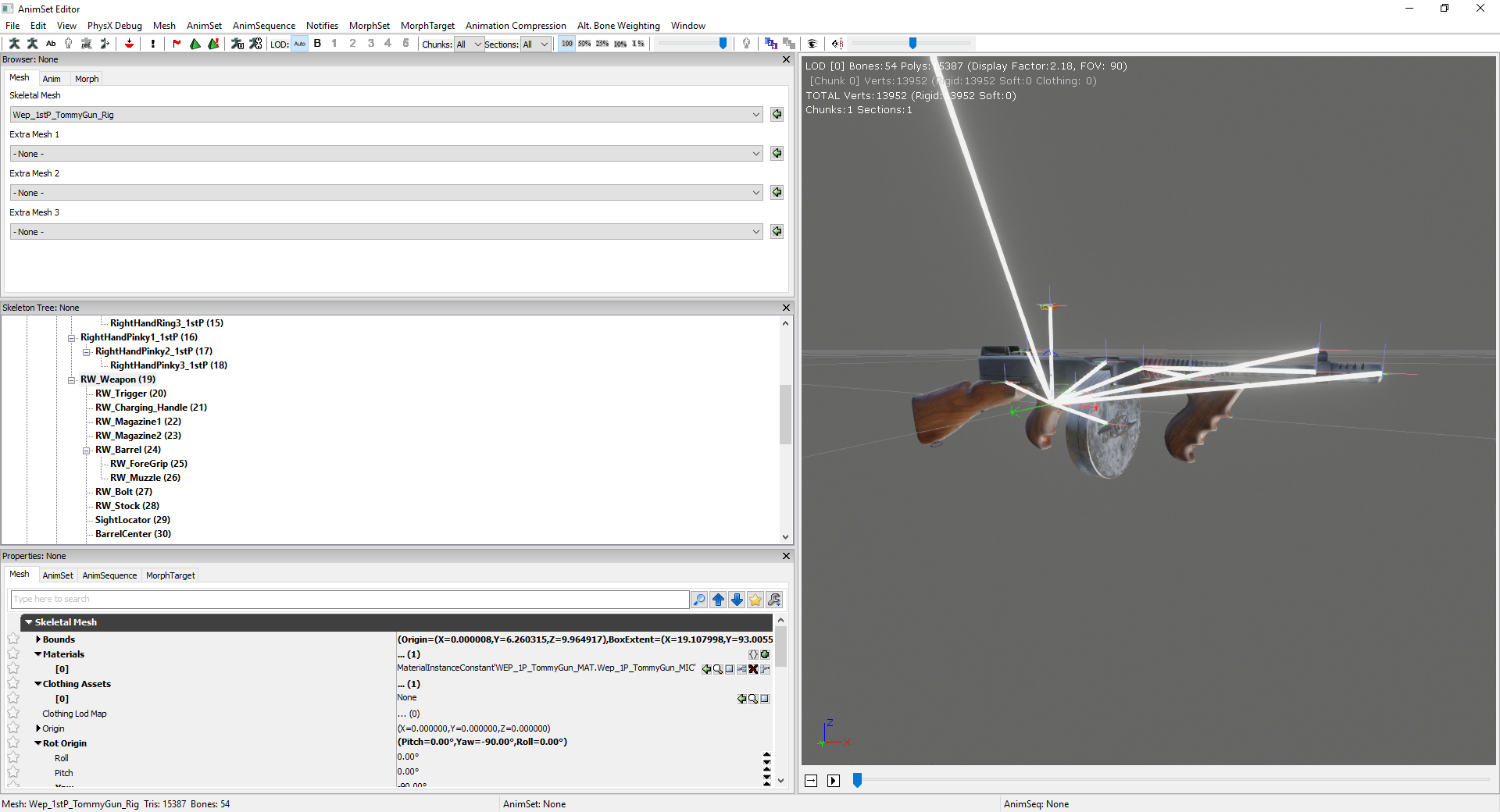 What was the first game you worked on? What other game titles were you also a part of?
If we're counting student projects then the first game I worked on was a flight based obstacle course named Tyto. Otherwise Killing Floor 2 is the first game title I've worked on.
What is your all-time favorite video game and why?
Just one? That's tough. Although I haven't played it in a long while Garry's Mod was pivotal in my decision to go into game production. For every Hour I spent in Zombie Survival, Stranded, and Trouble In Terrorist Town (my personal favorite game modes once GMDM disappeared), I spent two hours making reskins, importing characters and learning what made the game tick. I have more hours tracked in GMod that any other single game I've ever played.
Could you give us a glimpse of what you're currently working on now in Killing Floor 2?
I can't say much, but I have been able to have my hands in multiple jars. The most noticeable will be the rigging and FX work. Who knows, in a few weeks your favorite character might even be wearing something I fitted to them.
Any last parting words of wisdom?
Stealing from Nike and Shia LeBeouf: Just do it. No seriously. If you want to get into games or really any industry you have to take the first step. It won't be graceful, it probably won't be good, but for every attempt you make you'll get better and understand a little more. It's never too late to start something. You just have to keep at it until you finally get there.