Frequently Asked Questions
How to get back coins for spin more wheels?
There are more ways to get back coins:
For each participant on the wheel at the time of the draw: 0.20 for tier 1 or 2. (see image below) or 0.10 for those who do not have tier.
It is also possible to earn 0.05 coins per click on the banner we provide you, placed under your stream (profile).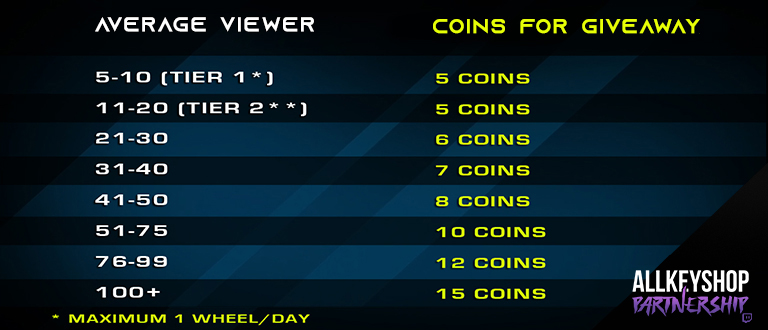 How the winner can claim his prize?
By going in his account profile on Allkeyshop.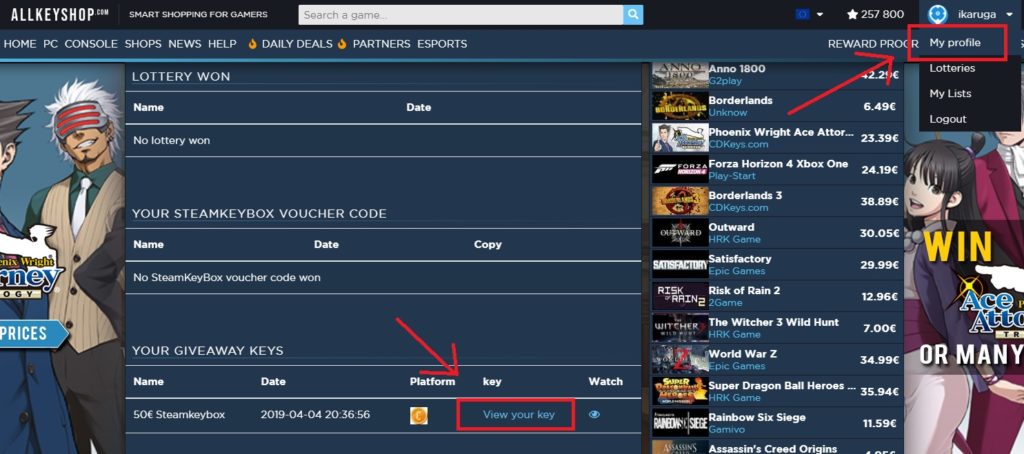 Where can the winner use his purchase voucher?
On the seller's site chosen by the streamer (Kinguin, Instant-Gaming, SteamKeyBox, etc).
How often is it possible to spin the wheel?
Maximum once a day.
How to proceed for claiming a game for myself?
You just have to make a custom wheel for yourself and participate alone in it.
Is it possible to do a giveaway only for my subscribers?
Yes, it is possible, eventually with discord or by sending a private message to your subscribers via the twitch dashboard.
To make me an idea, is it possible to have some statistics?
Ratio 100 inscriptions 0.10 = 10 Coins




Ratio 100 inscriptions 0.20 = 20 Coins Tiers 1 and 2

Banner under the stream 1000 clicks = 50 Coins
Is it possible to prepare my giveaway several days in advance on my social networks?
Yes, it is possible. Just set the date at the creation of the wheel and provide the link to register on your social networks. However, do not forget you have to spin the wheel in your stream.
Is it possible to rework the Allkeyshop banner provided, to adapt it to the graphics of my channel?
Yes, you are free to personalize the banner. As long the logo and slogan appear on it.
What are the points for?
The points are used in our reward program, with those you can participate in lotteries and try to earn € SteamKeyBox.
To participate in the Challenge/Versus, do I have to be a partner?
No, but if you join the Versus as a partner, it's a very good way to earn more coins.
Is there a reset of the clicks count on the banner under the stream?
Once you reach 1000 uniques clicks (= 50 coins), you will get paid at the beginning of the next month.
In case you do not reach that amount during the current month, your clicks will be carried forward to the next month until you reach the 1000. You can take 5 months or longer to reach it, that's no problem, it will stack.
Is the starter pack given only at the beginning of the partnership?
Yes. You must be careful to don't use all your coins, so be careful to have enough participants when you decide to spin the wheel.
Can I put the banner on a forum?
Yes.
Integration of the wheel on a green background?
No.
The mobile application is optimized to participate in the contest? Registration?
Mobile friendly.
Winning percentage statistics per wheel are individual or collective?
Individual per wheel.
Can i decide to stop the partnership when i want?
You can. However, we would appreciate to let us know a while before.
Do i have to be partner ONLY with Allkeyshop?
No, we don't have any issues if you have other partnerships.
You see an important question missing in this F.A.Q (Frequently Asked Questions)? You can ask it in the comments below!
The post Frequently Asked Questions appeared first on AllKeyShop.com.