PC Building Simulator Update v0.9.2.5 – Updated Career mode has arrived!

Hello PC Builders,
Are you ready for the next step in your career? Back in March when we released PC Building Simulator we never really knew what parts of the game players would enjoy. Of course we really hoped the Career mode would be one of them, and were pleased when it turned out to be the case!
We have been gathering feedback on this mode for a while now and over the last couple of months have been re-working various parts of the Career mode based on community feedback and our own wish list of things to fix. Today we are ready to release the bulk of these changes to get further feedback ahead of coming out of Early Access.
Please Note: As mentioned in our previous update existing save games are no longer compatible due to the amount of changes being made to the game. If you wish to continue with your current Career progress we have made v0.9.1 available via the Steam Beta Branch named: career_v1. You can switch to this in the following way:
Right click on PC Building Simulator in the Steam client
Select 'Properties'
Select the 'Betas' tab
Select the 'career_v1' beta from the drop down box.
This version will no longer receive updates, so once you are completed with it please select the 'None' beta option to get the latest version of the game again.
A big thanks to all the closed beta testers of this update, your feedback was extremely useful, as was your bug reporting.
Build v0.9.2.5 Highlights
Updated Career Mode
There is a lot of changes but here are some of the highlights:
Clearer Pay
Jobs rewards are now split by labour and available budget to allow fairer pay for the work completed.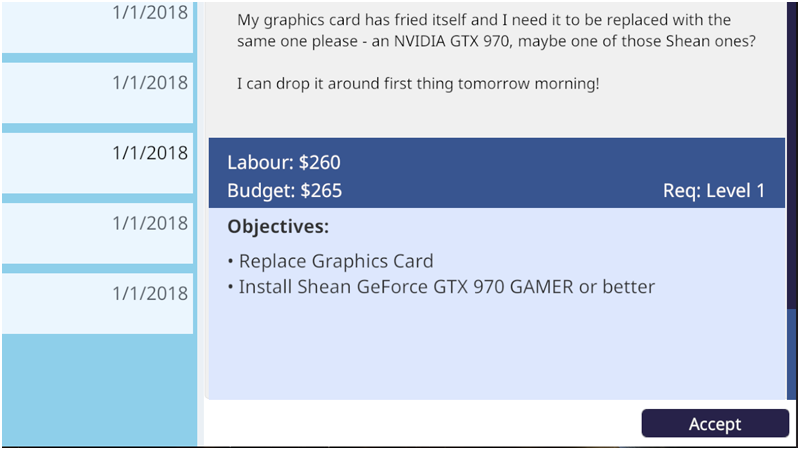 More Information
Players can now see the specifications of the PCs coming to them before they arrive.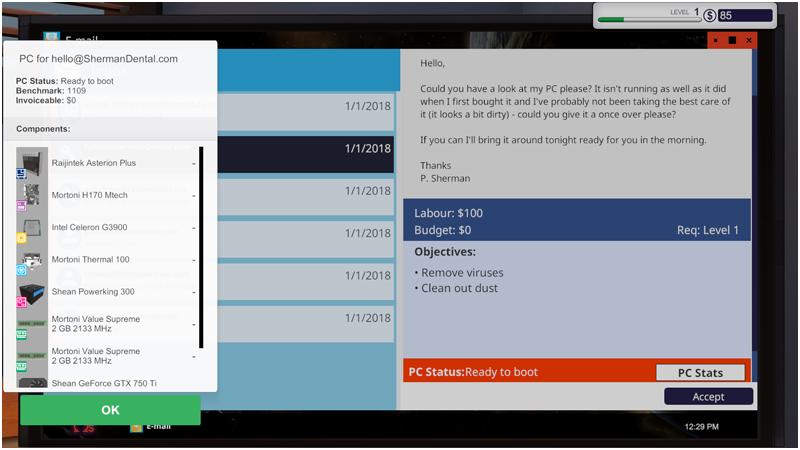 Business Reputation
Customers now rate the work you do and your reputation adjusts the types of jobs you get. The new Bongle app allows you to track their feedback!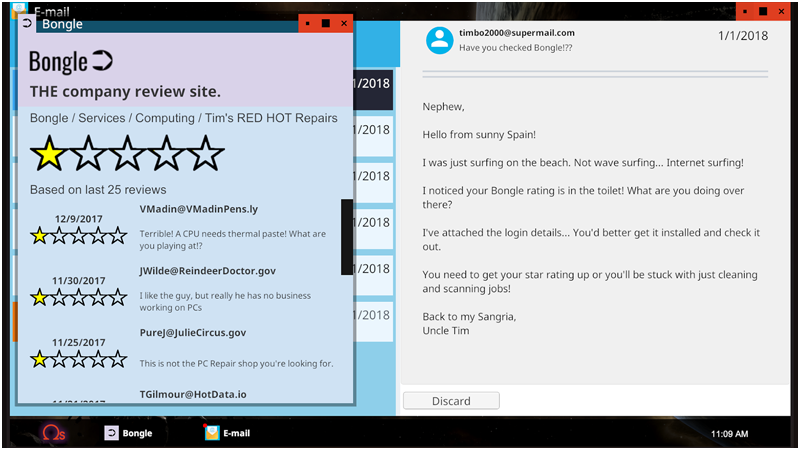 PC Bay
We have made various adjustments to how PC Bay is used by players by expanding its functionality. It now offers pre-built systems alongside regular parts and has a fluctuating market so keeping an eye out for a bargain is key!
In addition, you can now sell your own pre-built PCs via PC Bay.
A new Market app is available that allows you to monitor PC Bay market trends so you can make some extra cash by buying and selling when prices are right!
Free Build Change
Available cases are no longer stored in the storage cupboard, instead you will find these in the inventory (Press 'I' or click on the shelving in the workshop). You can store any completed PC builds in the cupboard as normal.
New Parts
Antec P110 Luce (Case)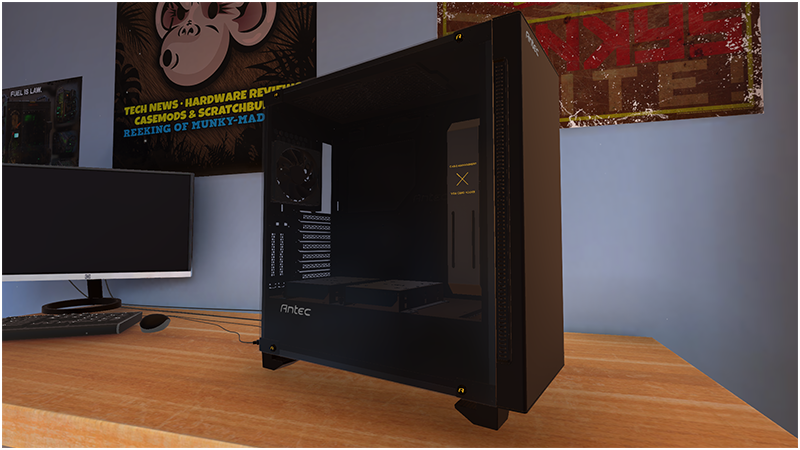 Antec P8 (Case)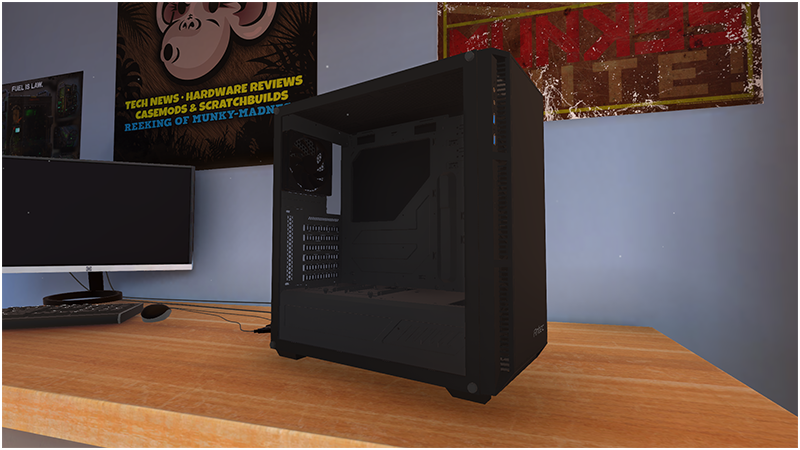 Antec P6 (Case)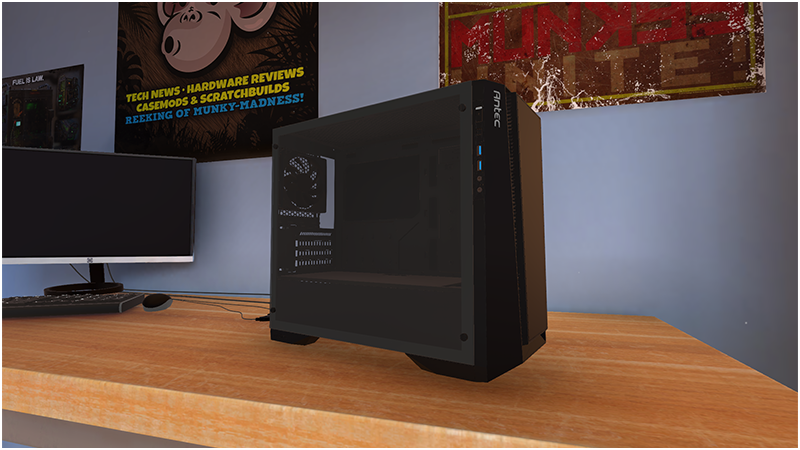 Raijintek ZOFOS EVO (Case)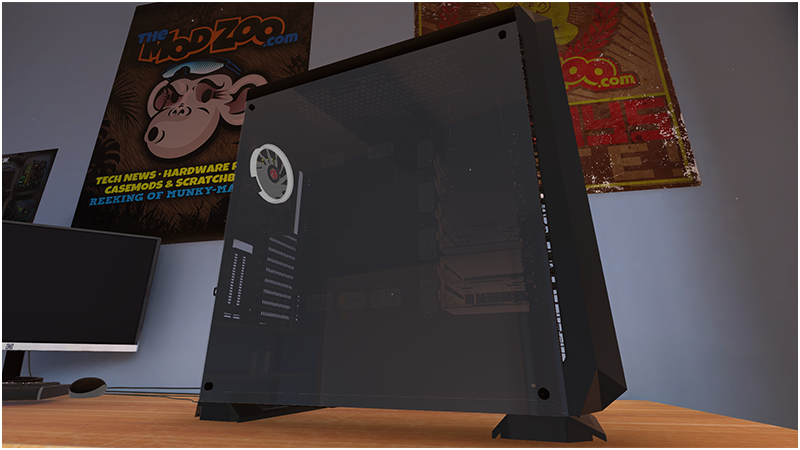 Raijintek COEUS EVO TC (Case)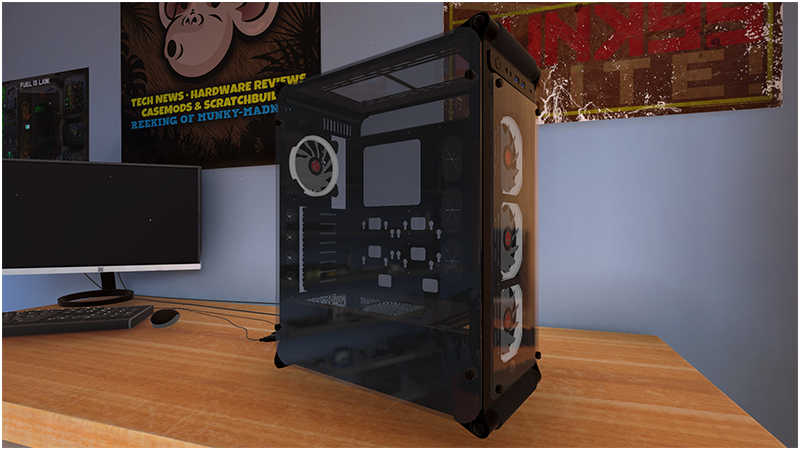 Raijintek COEUS ELITE TC (Case)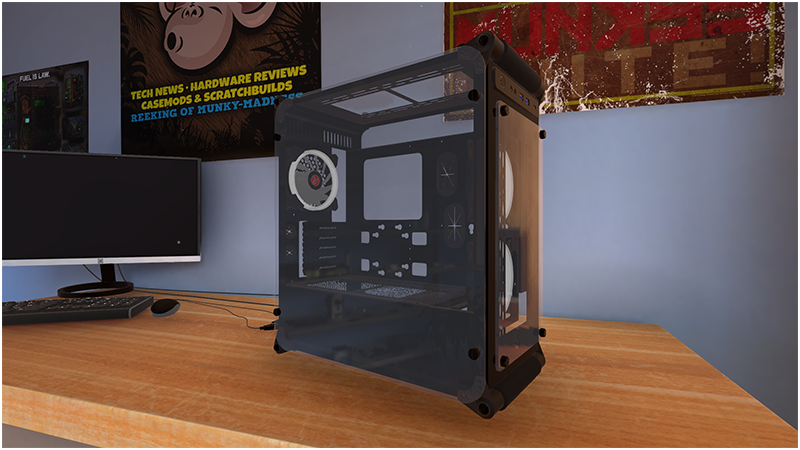 Raijintek PAEAN M (Case)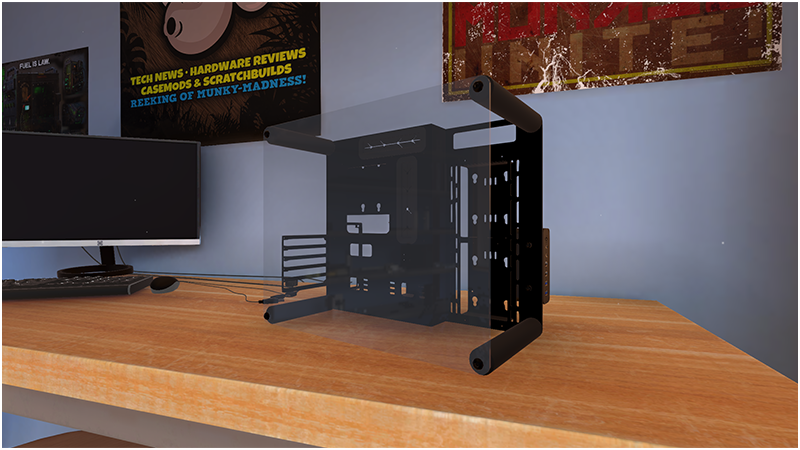 CORSAIR Carbide Series 275R (Case)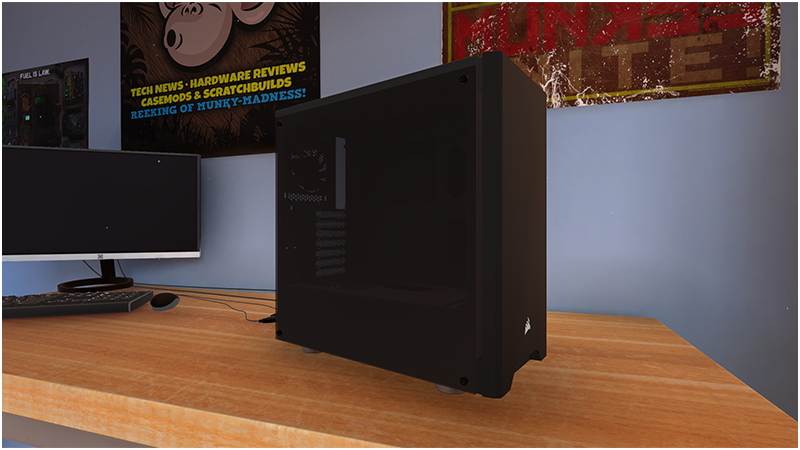 SilverStone FT05 (Case)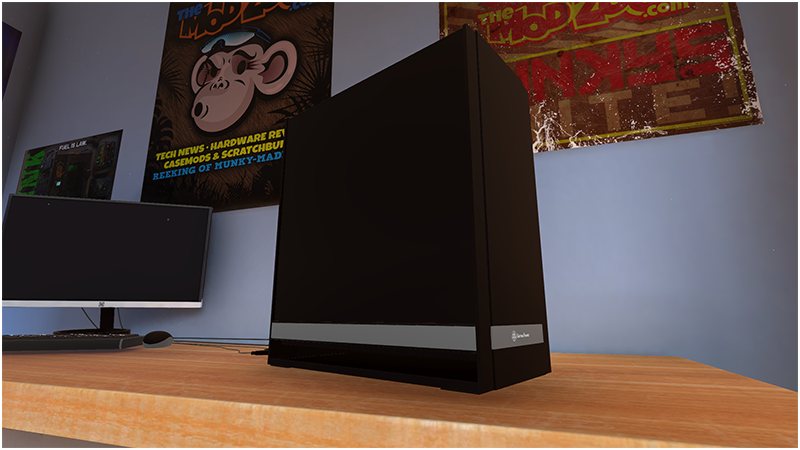 SilverStone PM01-RGB (Case)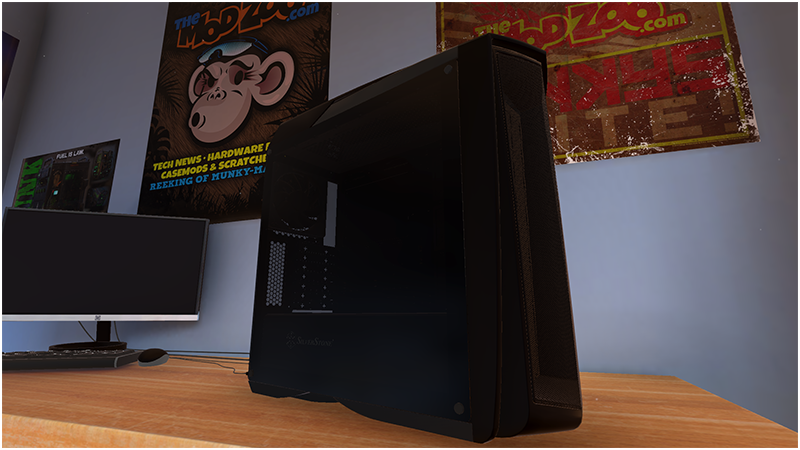 EVGA DG-7 Series (Cases)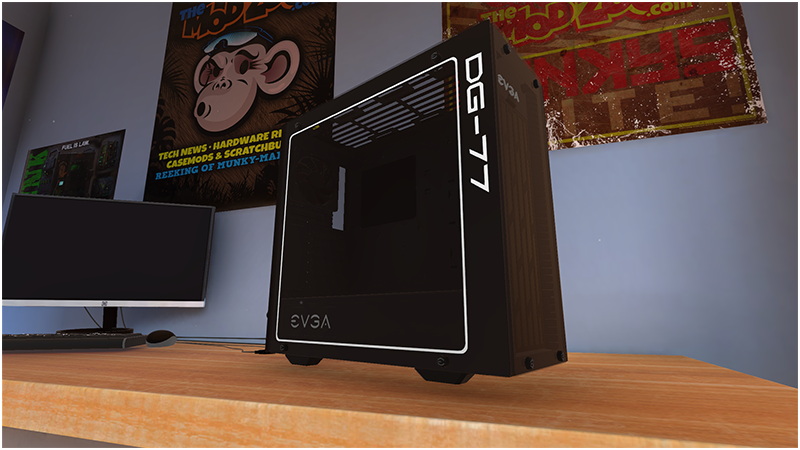 Full Patch Notes:
(Career unlock level is in brackets after a parts/features name, all parts available in Free Build right away)
New Cases: Antec P110 Luce (14), Antec P8 (13), Antec P6 (13), Raijintek ZOFOS EVO (29), Raijintek COEUS EVO TC (30), Raijintek COEUS ELITE TC (30), Raijintek PAEAN M (28), CORSAIR Carbide Series 275R (13), SilverStone FT05 (8), SilverStone PM01-RGB (12), EVGA DG-73 (28), EVGA DG-75 (28), EVGA DG-76 (28) & EVGA DG-77 (28).
New Motherboard: ASUS ROG Strix X299-E Gaming (24).
Re-balanced when parts unlock through the Career mode.
Added Overclocking and Custom Loop related jobs into the random job pool.
Adjusted job email delivery to improve work/life balance, if you have no more jobs then come back the next day.
Job rewards are now split between Labour and Part costs to better reflect the work done.
When completing a job you now receive a job summary screen.
Where applicable you can now view an incoming PCs specs before it arrives.
Added Business Reputation

Customers now leave reviews based on job performance.
Your overall reputation will adjust the kinds of jobs available to you.
Keep an eye on the customers' requests closely!

Added Bongle app to show customer reviews.
PC Bay Rework

Prices of components varies with time, spot trends to earn more cash!
Complete PC's now available to buy.
Players can now sell cases and built systems.

Added Market app to track PC Bay market trends.
Updated PC Status Window

Job PCs now show the current 3DMark score of the PC.
They also show the cost of any parts added to the job.
New builds show a list of parts included and their costs.

The shop now shows you how many of a part you already own.
The inventory can now be accessed by clicking on the shelving in the workshop (You can also still use the 'I' key.
The PC Operating System is no longer tied to the case of the PC but to the HDD, you can select the boot drive in the bios now.
Motherboards maximum supported RAM speed is now displayed in the inventory and shop.
Players real-world Windows desktop image is now used on their in-game office PC.
Added various new tutorials to support new features.
Adjusted move speed of the player, it should be a bit faster now.
Added further variables to the search options to improve what they can find.
Search box now has an option to clear it.
Improved the resolution of part thumbnails used in the inventory and shop.
Tooltips can now be toggled on/off via the options menu.
Edge scrolling can now be disabled in the options menu.
Adjusted own brand motherboards chipset names to better reflect their lack of overclocking options.
Fixed an issue that would cause XMP to select a voltage that was too high and would kill the RAM.
Fixed case fan alignment issues on the NZXT Razer S340 case.
Fixed the LEDs not working on the EKWB EK-Vardar EVO 120ER RGB case fan.
Added various new SFX.
Various cabling fixes in cases.
Various small bug fixes (probably too small to notice, but they are there).
What's Next?
Due to this major rework to the Career mode of PC Building Simulator we will be gathering your feedback and fixing up any critical problems over the coming weeks.
We will then be working on the road to v1.0 and our exit out of Early Access, so we will be hard at work adding new parts and polishing up various aspects ahead of this. There are still lots of exciting announcements to come!
As many of you have seen, we are currently testing Steam achievements. These will go live when ready, but they are likely to do so with v.1.0 of the game.
We look forward to the updated Career mode feedback.
Happy Building!
The PC Building Simulator Team