Update 0.8.0 – June 14th, 2018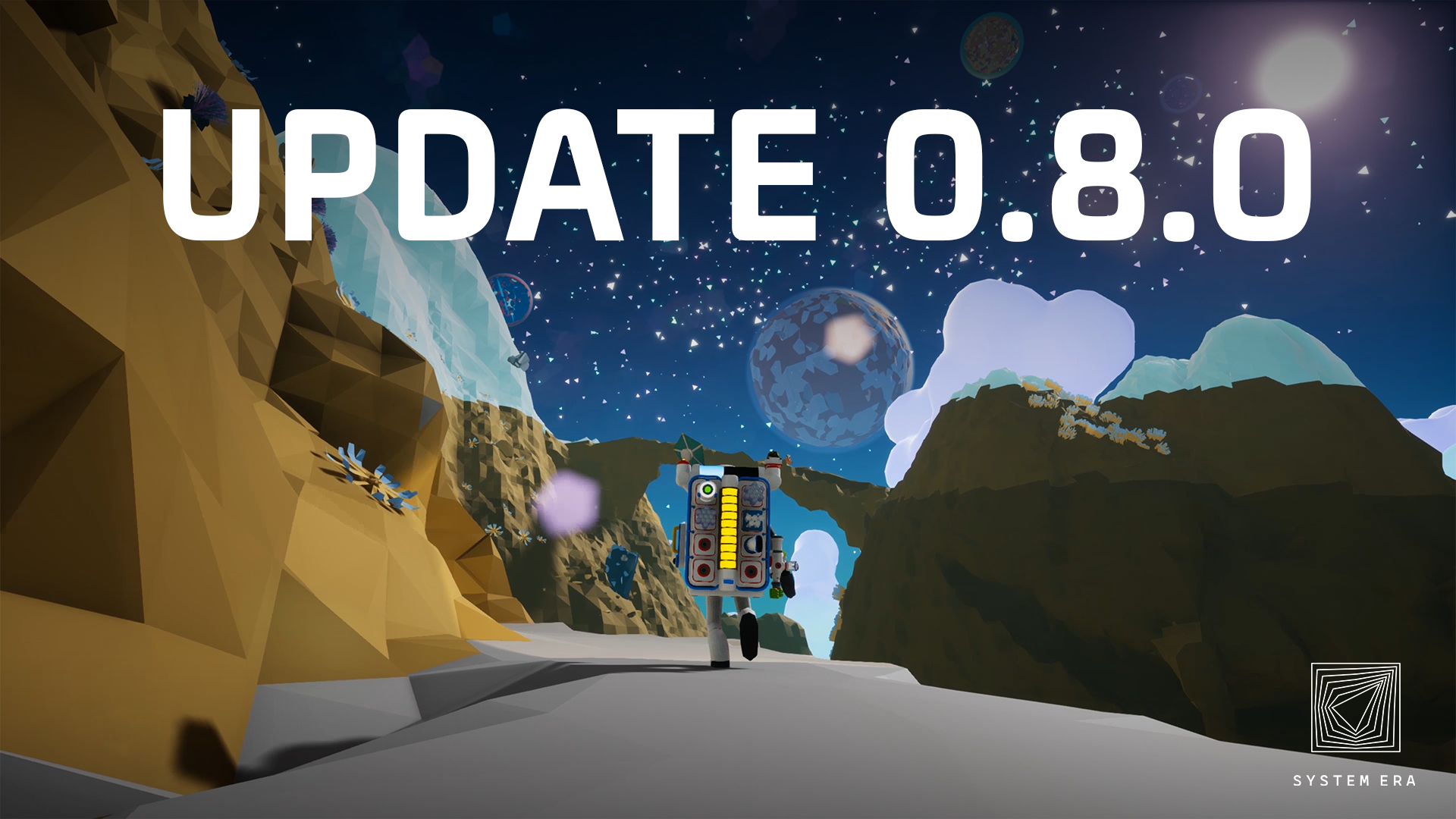 Steam 'Early Access' players will receive this update today, June 14th, 2018.
Update 0.8.0 contains a new tutorial, the beginnings of a complete overhaul to the game UI, and a completely new element in the Research system, Harvestables!
UPDATES
You can find these updates in 0.8.0.0, the current build of the game.
The game has an all-new Tutorial experience that is accessible from a new drop pod in the Main Menu! The goal of the new Tutorial is to introduce the basic concepts of Terrain deformation, Oxygen / Power management, Research, Exploration, and Basebuilding in a more streamlined way to new players. We hope that this tutorial will be good for new players to Astroneer, but also to players who haven't played the game in a while but are coming back!
When launching Astroneer 0.8.0.0 for the first time, new and returning players will be prompted to try the new Tutorial. Returning players can skip the Tutorial and it will be available to replay at any time from the Main Menu.
In order to match the unlock progression of the Tutorial, new games will now begin with the Canister, Tethers, Small Generator, and Open 1-Seat unlocked, in addition to the modules and platforms already available by default.
Even if you're already familiar with the game, we encourage you to play through the new Tutorial. We will continue iterating on the experience over the coming months so please be sure to share your feedback with us in the forums!
The game has been updated with a "v1" of an overhaul to all of Astroneer's in-game text UI. Instead of persistent floating text, almost all interactive items, modules, chassis, and resources, have been updated with a "UI card" visual design.
All modules and resources now have an icon associated with them.
Hovering over holographic input indicators will now tell you the resource required for module, printer, and fabricator recipes.
Proximity-based tooltips have been added to all embedded Resources.
Position indicators have been removed from vehicles, so be sure to print Beacons and slot them on your Vehicles if you intend to walk very far away!
Some areas like: main menu UI, spaceflight UI, Backpack UI, as well as UI for the Trade Module and Mineral Extractor will be updated in a future release.
There are now special plant and mineral formations on Terran, Barren, Arid, and Exotic planets that spawn unique objects you can instantly research for a variable amount of Bytes. These Harvestables will respawn their research items over time, and also have a chance to spawn a large, single-use Research Item at their root. Be warned, though: uprooting the plant or mineral will prevent it from respawning their instant-use research items. So weigh your options carefully between single use and respawning values – and be careful where you dig! The goal of the Harvestables system is to smooth out the starting gameplay experience by offering small, renewable sources of Bytes in areas that might have a low density of Research Chests, and to provide interesting points of interaction across the surface of planets.
Your Backpack inventory and location are now preserved between multiplayer game sessions! When returning to your friend's saved games or rejoining after a lost connection, your Astroneer will load in the last location you left them. Also, in order to fix a number of bugs that could occur if clients joined before the host deployed the shelter, multiplayer is now unavailable until the host has landed on the starting planet and deployed the shelter.
BUGS
[AS-2855] — Fixed an issue where storms were appearing pixelated for players on the Xbox One
[AS-2890] – Fixed a bug with Generators so they once again pull available organic from backpack slots
[AS-2894] – Fixed a bug where Terrain Analyzer color meters changed to black upon exiting game and reloading the saved game.
[AS-2917] – Audio should now reset properly after Astroneer death.
[AS-2935] – Player backpack oxygen tank should once again pull oxygen from connected tanks or filters.
KNOWN ISSUES
In a higher latency situation, rejoining players may appear at first where they last were in a Multiplayer game, but due to latency, input is still bound to the EXO satellite and on pressing 'A' they get relaunched from the station.
1.0 RELEASE DATE NEWS
Also, just in case you missed it, we were at E3 and announced some big news! Astroneer is now slated to go into full 1.0 in December 2018! We will be updating the roadmap to reflect the rest of our plans during Early Access, but rest assured, we will continue updating and adding to the game in order to make 1.0 a huge advancement of Astroneer!
Click here if you want to hear more about what we revealed at E3, including news about cross-play between Steam and Xbox via dedicated servers, increased multiplayer counts, and more.
When you are done with that watch the E3 trailer below!